A butler's pantry served as a storage area for costly culinary equipment, dishes, and other items in the past. Pantry butlers for wealthy households often slept in their pantries and utilized the space to do their job of safeguarding the family's possessions. But in today's world, the uses have changed. So, what is a butler's pantry? 
A butler's pantry is an area in a home where items are stored, things like dry food items, sets of china, serving dishes, household equipment, and other valuable items. The Butler pantry is also called a scullery and is used to prepare food for guests and store dirty dishes. 
The butler's pantry is often located between the kitchen and dining room.
As uncommon as a butler's pantry is in today's households, the demand for this storage space increases among new homes.
In a butler's pantry, you can hardly say it is one design for all because there are several options for pantry designs. It can be as essential as a shelf-lined storage space, a closed-up, open, or free-standing. In addition, some butler's pantry has fridges, a sink, and many other items installed. 
However, one feature that modern butler's pantries have in common is the location between the kitchen and the dining room.
What Does a Butler's Pantry Contain?
You may be wondering what you would be able to do with one of these pantries. Even if you lack relics such as china plates and cutlery, a butler's pantry might be beneficial. 
They are now used to store: 
Countertop
Cabinets
Tableware
Wine glasses
Table linens
Candles
Dining room items
Dishwasher
Small refrigerator
Sink
Wine
You may transform this space into a beautiful dinner staging area with the right quartz countertops.
What are the benefits of a butler's pantry?
Today, even a tiny pantry is of immense use to homes. Without this space, most individuals are obliged to keep their belongings in a cabinet or other small area, such as the basement.
A butler's pantry increases the amount of storage space in a kitchen.
While entertaining your guests, you can easily hide unwashed dishes or other messes in the butler's pantry.
It provides an easier method of keeping glasses, plates, and bulkier kitchen gadgets organized.
It can also serve as a food preparation area outside the main kitchen. 
It can easily increase the value of a home.
This is why having a butler pantry between the kitchen and dining room is highly handy. 
Tips and ideas for designing a butler's pantry
Now that you have a firm grasp of using a pantry let's look at some valuable tips and ideas for creating one.
1. Built-in butler's pantry
Most butler's pantries don't have to be disguised behind a closed door. Some butler's kitchen pantry designs are built-in directly into the corridor wall between the kitchen and dining area.
The focal point of these built-in pantry designs is a surface that can showcase artwork or serve as a staging area for meals, with storage above and below.
2. Start with cabinets and countertops.
Begin by selecting a color scheme and surfaces that work well in the area. For example, consider using a darker hue such as the Piatra Grey countertop to create the illusion of a hideaway. Light worktops, cabinets, tableware, storage
, and tools all contribute to the larger-than-life appearance of a blank slate.
3. Small butler pantry
If you think there is not enough room for a kitchen with an integrated butler's pantry, then a small butler pantry will do. But, again, using a skilled interior designer will help you create that space. If you choose a corner pantry for storing wine bottles, glass cabinet doors are an excellent option.
4. Corner pantry
One clever method to incorporate a built-in butler's kitchen pantry into your kitchen is to locate it in a corner—cabinets with glass doors and counters that closely fit the angles of the corners.
5. Free-standing butler pantry
A self-contained butler's pantry is more of a piece of furniture than a room with various options. However, it may also be huge, leading casual onlookers to assume it is a structural feature. Color coordination and precise measurements are critical if you want a Free-standing butler pantry.
6. Choose your lighting 
Butler pantry lighting is critical to transforming a pantry by replacing outdated fixtures with an antique chandelier or similar. In addition, lighting helps to create the illusion of a larger or more private space. Just ensure that critical parts are well-illuminated to complement the pantry's contents or characteristics.
Contemporary butler's pantry
The tips above will assist you in designing a thoughtful, modern butler's pantry. However, there are several extra contemporary variables to consider:
Making use of a smooth, clean surface
Adhering to visual light, minimalist wood
Use white hues with vibrant accent colors where required
Use pot light fittings
Butler's pantry designs
A butler's pantry may have a variety of designs like the antique butler's pantry, which is a good alternative for a beautiful and secure space. 
Another is the traditional butler's pantry
; this has intricate details such as handmade wood and flooring. While a contemporary pantry may look more 'lightweight' and 'integrated, an antique pantry will exude a sense of brilliance. For instance, you may choose to exchange glass cabinet doors for wood.
How should a butler's pantry be decorated?
You do not have to be too extravagant when staging or decorating a butler's pantry. However, bear in mind that these rooms are designed to be primarily functional; and include ornamental features such as quartz worktops and lighting into the area.
What does a butler pantry look like?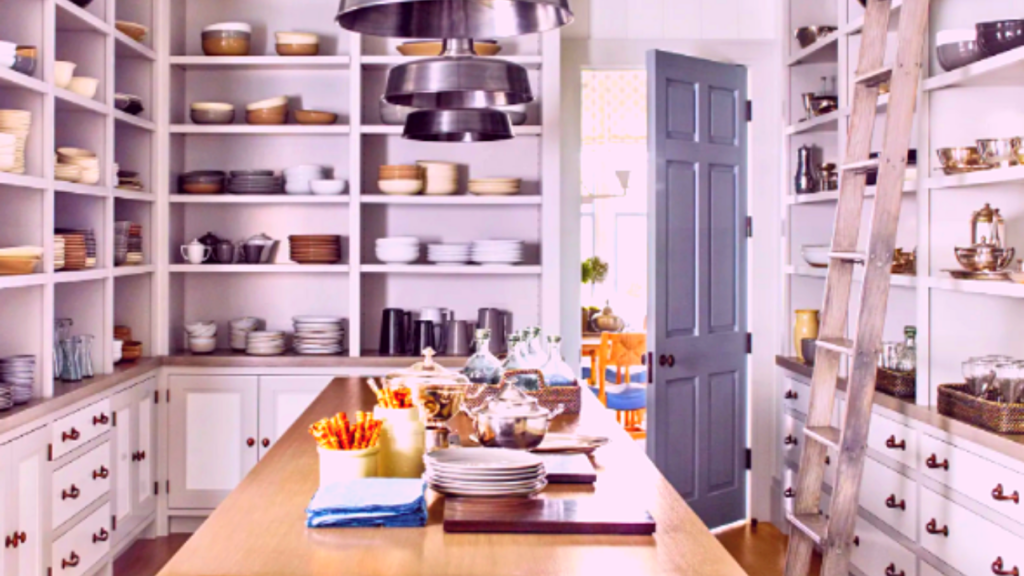 A butler's pantry is often a room equipped with shelves or cupboards for storing kitchen-related products. For example, a butler's pantry usually has a countertop and cabinets for serving pieces, a dishwasher, a small refrigerator, or a sink.
What are the dimensions of a butler's pantry?
Typically, a butler's pantry is no less than 5 feet by 6.5 feet.
What are the dimensions of a butler's pantry sink?
An average butler's pantry sink should be no bigger than the sink in a standard room. It's simply for cleaning utensils and your hands regularly. A decent dimension is 24″ x 30″ x 36″.
Is ventilation required in a pantry?
Yes, as with any other room in your house, your kitchen pantry will need some amount of ventilation to work correctly. The reality is that ventilation is critical for your house's material quality and food safety. Proper ventilation will keep your food dry, reduce mold growth, and preserve your pantry components that support the woodwork in good condition.
Unventilated pantries are more prone to mold development, food decay, and aromas that cling to the walls. Therefore, if you want to keep your pantry fresh, you should install some vents.
Is a door necessary for a pantry?
While historically, all pantries featured a door to protect them, this is not a required feature of any pantry. Because most pantries feature cabinets with doors, it's not as if you need a door to reach the exit. Therefore, if you don't want a door, do not add or keep the pantry door. In most situations, removing the door will result in increased ventilation. 
Conclusion
Whatever ideas you select, keep in mind that a butler's pantry does not have to be boring or typical. Instead, it may be customized to match your lifestyle, design aesthetic, and functional requirements.