It's hard to rationalize spending money on a good kitchen rug when you understand it will quickly wear out. However, several kitchen mats and rugs combine elegance and utility. Think through the functionality and aesthetics of your kitchen and your degree of engagement; a firmer cushion underfoot and a rug's enhanced attractiveness have their benefits. Before we go any further, what are the best washable kitchen
rugs and mats available?
The Pauwer kitchen rug set of 2 non-skid floor mats is our best choice for washable kitchen rugs and mats. This is because it has a non-slip rubber backing and beveled edges, is waterproof, long-lasting, oil-resistant, and easy to clean and wash. Finally, it is affordable and can easily be shipped within days.
Kitchen carpets are comfortable for cooking, baking, and dishwashing. The furniture will contribute to your kitchen's elegance, even on takeaway evenings. If you spill regularly, choose an abstract design. Its deep color palette and sophisticated pattern camouflage spill, and you can wash it on a gentle cycle to make it seem fresh. Kitchen rugs may help relate the space to the rest of your house and provide stability in a high-traffic area.
Guides for buying kitchen rugs
Before buying a kitchen rug, evaluate what materials and colors can withstand a high-traffic, spill-prone location. Since there are so many possibilities, below is what to look for. 
Material 
Comfort is probably why you want a kitchen rug. Hard, flat floors might be unpleasant after a while. Cotton isn't stain-resistant, but it's soft and machine-washable. You can choose a finely woven, low-pile material for durability. Woven sisal may withstand wear if you're careful and don't like its rough texture or form—manufactured synthetic fabrics like nylon, cotton, and olefin to resist grease and grime.
Color
I like colorful or patterned kitchen carpets that disguise clutter better than neutral ones. If you're beginning from scratch, choose reds, oranges, and golds. Busier patterns hide spills well, as long as you are regularly cleaning. 
20 Best Comfortable Washable Kitchen Rugs And Mats
1. Pauwer kitchen rugs set of 2 non-skid kitchen floor mats
The Pauwer kitchen runner rug set, two pieces, 17 x 47″ + 17″ x 28″, is made of high-quality PVC to ensure the cushioned kitchen mat for the floor will retain its shape even with rigorous use. The 10mm kitchen rug cushions your feet and knees to improve blood flow and correct poor posture, so you may stand while cooking or performing other activities.
These cushioned anti-fatigue mats offer a textured design surface, a non-slip rubber backing, and beveled edges. They are waterproof, long-lasting, oil-resistant, and easy to clean with a damp cloth or sponge, regular household cleaner, or a brisk sweep.
2. QIYI non-skid mats for kitchen 2 pieces.
High-quality eco-friendly PVC leather makes the floor comfort mats spill-resistant. A clean surface pattern design brightens any home—multipurpose (wood, ceramic, marble, etc.). The attractive drawing floor mats feature a modern gradient wave natural landscape print. 
This kitchen rug set's beveled edges and strong anti-skid backing prevent tripping and skidding, while the foam beneath keeps standing mats in place for safety and stability. You can save time and energy by wiping with a moist cloth or sponge or sweeping away dirt and dust.
3. Farmhouse non-slip kitchen rugs 2 piece 
Farmhouse and rustic-themed kitchen decor are popular with antique-style surface patterns. An elegant and warm kitchen accent. These kitchen rugs and mats will match any design. Because it is an anti-fatigue kitchen mat, it supports your feet when standing. The extra thickness also provides support and comfort while cooking. It is also waterproof and oil-proof, stain-resistant, vacuumable, and can be wiped with a moist cloth. 
4. DEXI kitchen non-skid rugs for kitchen.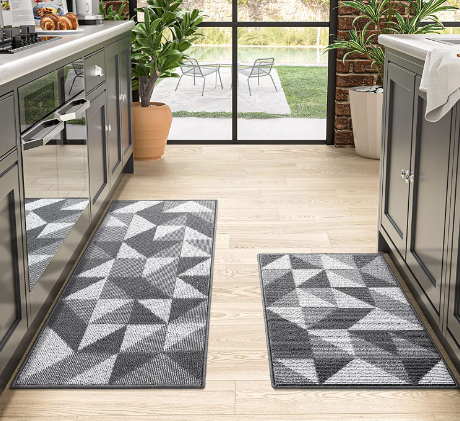 Two kitchen mats from the DEXI collection offer a roomy place to stand when doing the dishes, preparing food, or working at the sink. TPR material, used for the underside of kitchen rugs, is long-lasting and adds a protective layer to your flooring. However, a kitchen mat on a dry, smooth surface would be best. When there is moisture under a mat, it might slide about.
The materials made from high-quality polypropylene won't degrade or shrink over time. It's easy to carry around and can stand up to repeated use. The mats we use for our kitchen floor are long-lasting, won't retain stains, are absorbent, and dry up rapidly.
You can remove the dirt with a damp cloth, a quick sweep, or a quick vacuum with a handheld device. The option to have items machine-cleaned and dried is offered for those who want a more thorough cleaning. That meant they could be cleaned and reused indefinitely.
5. UpNUpCo artistic and colorful washable floor mats for kitchen

.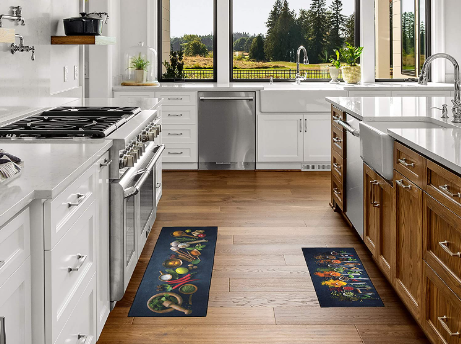 The kitchen is the heart of a house full of life; this kitchen rug conveys that liveliness and brightness! You may select from a range of professionally printed graphics with good quality and brilliant colors. You will love cleaning dishes, baking, and cooking once you renovate your kitchen. It matches wonderfully with any décor. 
Bring your kitchen to life with a splash of color and style, and it also comes with two parts to provide a harmonious environment and comfort. First, it is resistant to regular messes, including spills and crumbs. You can easily clean it in the washing machine without sacrificing its durability or effectiveness in safeguarding your flooring. It absorbs water and dries quickly.
6. Pauwer Boho non skid kitchen runner rugs 3 piece

.
This is also a non-skid washable, cushioned kitchen area rug, and a waterproof rug. This kitchen rug set includes three pieces measuring 20″ x 32″ + 20″ x 47″ + 20″ x 59″, excellent for covering your kitchen floor or laundry room, washing, and dryer. This rustic laundry room rug runner looks great and lends elegance to other rooms in the home.
This padded kitchen runner rug is manufactured with quality and utility. The 0.2-inch cushioned natural rubber foam kitchen area rug is comfortable to stand on and low-profile enough to go under a door.
This kitchen rug set with a runner keeps up well in high-traffic areas. Its heavy, strong, non-slip natural rubber backing keeps this rustic hallway runner rug in place for family safety. In addition, it's easy to mop up spills, sweep, and vacuum a waterproof surface.
7. HEBE non-slip kitchen rugs washable 3 pieces.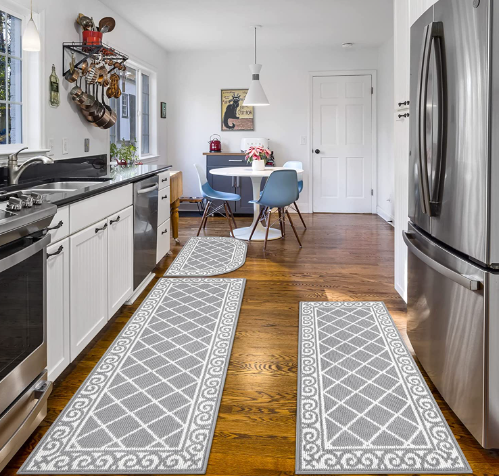 Geometric patterns look great in kitchens with classic, non-fading, and non-shrinking printing and dying. Polypropylene, fade and wear-resistant, hand-work edging, sturdy and durable. The kitchen floor mat absorbs water and dries rapidly, preventing dampness and stains.
The kitchen rug sets, two pieces with a runner's bottom, are manufactured of high-quality TPR material with an anti-skid backing to prevent slipping and sliding. The kitchen mat set for indoor and outdoor door mats will be nice in your home and seem simple and clean.
Use a cold-water machine to wash each runner rug with a soft detergent and no dry cleaning or bleach. Avoid fabric softeners and dryer sheets. 
9. ROSMARUS coffee theme kitchen rug set of 2 pieces

.
The superior cushioned foam reduces ankle discomfort and tiredness when cooking or laundry. In addition, PVC kitchen mats are stain-resistant, waterproof, oil-proof, and robust.
The mat's non-skid backing adds safety; no more sliding or itching. In addition, these kitchen sink mats have a soft PVC backing to minimize movement and scratching. It fits laminate, marble, tiles, hardwood, and carpet.
10. Kitchen rugs and mats non-skid washable 2-piece set.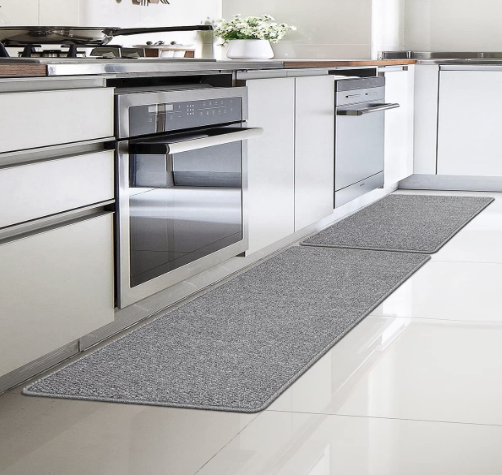 These kitchen mats have machine-locked edges that are flat (to prevent tripping) and won't fall apart after washing. The roller ring design and polypropylene produce a three-dimensional effect, and the anti-fatigue mat material won't dissolve or compress. As a result, your prolonged use won't degrade it. Due to its soft and robust surface, pet claws or sharp items won't damage the mat or floor, saving you money.
100% polypropylene prevents greasy water from staining your floor when cooking. So this rug's back won't melt and damage your floor. The kitchen carpet's back is constructed of rubber with a herringbone grid and rubber backing for optimal safety, fade resistance, and abrasion resistance. Keep the rug's bottom dry and set it on a dry, level surface. 
11. UpNUpCo non-slip kitchen rugs and mats 2 pieces

.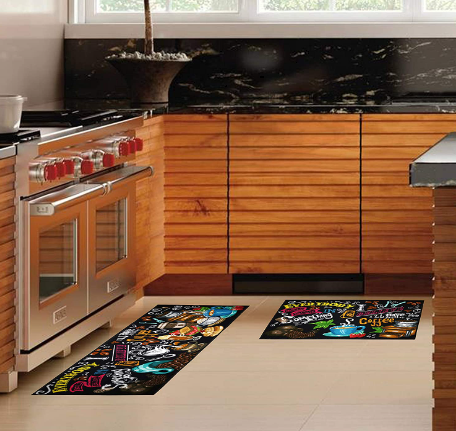 Life revolves around the kitchen. Brighten your kitchen with our rug. Professionally printed designs are available with high-quality, vibrant-colored kitchen rugs. Our kitchen rug set is vibrant. After remodeling your kitchen, you'll adore baking and cooking. It matches any style. Guests will notice attractive carpets.
Our 2-piece kitchen rugs are versatile and add color and creativity to your kitchen. It has cute homeware, vibrant patterns, and creative designs. In the kitchen, spills and crumbs are inevitable; that's why you need this machine-washable mat that is composed of quality material. In addition, it is water-absorbent and quick-drying to appear fresh! 
12. Kitsure kitchen mats 2 pieces waterproof and non-slip

.
The ergonomic kitchen rugs and the 0.4-inch anti-fatigue cooking mats provide standing support and comfort. In addition, memory foam kitchen mats can protect fragile items from shattering when dropped on them. The kitchen rug's premium PVC gives it strength and deformation resistance. Waterproof and oil-resistant kitchen runner rugs are easy to clean. Vacuum the mat or remove spots with a moist cloth or sponge.
These non-slip anti-fatigue mats for standing protect youngsters and dogs on wood, ceramic, laminate, marble, and concrete. The kitchen carpets are 17.3″ x 30″ 17.3″ x 47″ and 0.4 inches thick. Use either size to fit most kitchens. In addition, the kitchen floor mat's improved substance won't emit strong odors.
These neutral-toned solid-color kitchen floor mats may compliment any house and any kitchen décor style. In addition, the mats operate as anti-fatigue kitchen mats in various indoor and outdoor spaces, such as the laundry room, office, doorway, balcony, and farmland.
13. KMAT kitchen rugs and mats 2 pieces

.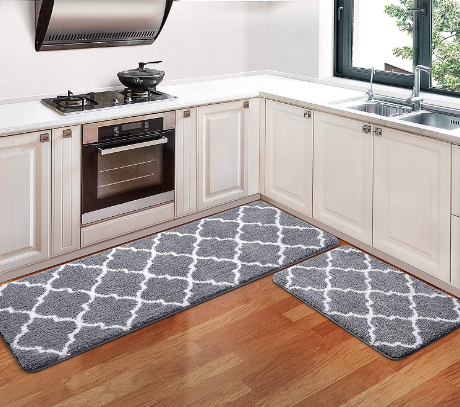 The KMAT kitchen rugs are made of water-absorbent microfibre that dries rapidly after absorbing water or oil and remains in good shape. High-pile microfiber mats are comfortable to the touch and protect your kitchen floor from water damage.
KMAT kitchen mats give extra-large activity areas with a neutral hue, and unusual patterns are versatile. Pets enjoy these warm, silky mats. Perfect for friends and family! Some kitchen rugs and mats we chose are machine-washable and stain-resistant. Wash with mild soap on the gentle cycle and air dry. They're machine-washable and shape-retaining.
The washable rug's non-skid TPR bottom ensures safety, fading, and abrasion resistance. In addition, microfiber kitchen runner rugs' superior material and thoughtful design make them harmonize with your décor.
14. Kitchen rugs set of 2

.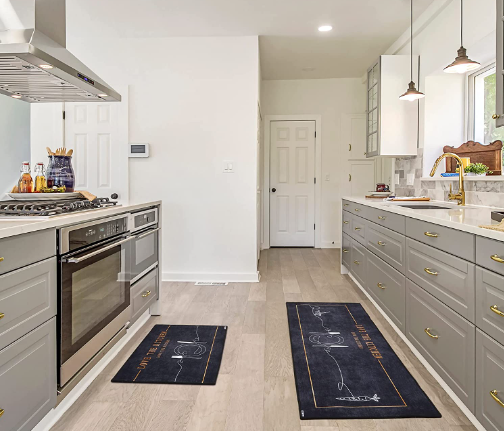 It absorbs water and dries rapidly, keeping your kitchen floor from staining. Imitation linen surface with distinctive design, non-skid backing, fade, and wear-resistant, barefoot-friendly. This includes 16×47 and 16×24, 0.3-inch-thick carpets, and an L-shaped kitchen mat set.
Low pile height for simple cleaning and vacuuming, slim shape to fit under doorways. Let your floor seem simple and clean in the outdoors, kitchen, and entryway.
15. Bee kitchen mats cushioned and anti-fatigue.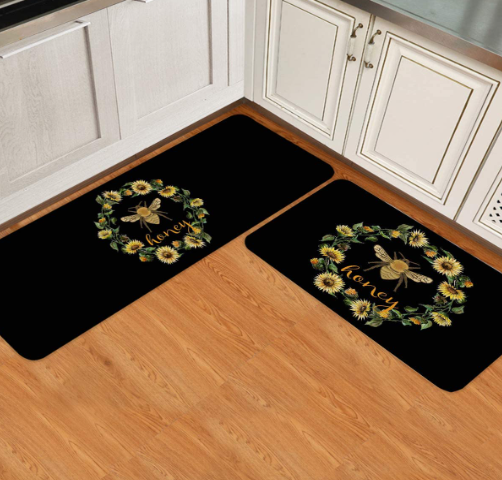 This 2-piece set is also a non-skid kitchen floor mat. This mat provides comfort all day, and the microfiber mat cradles your feet in the kitchen, workshop, or stairs. The non-slip rubber backing adds safety and is convenience-focused. These ultra-thin mats are great for everyday use and don't get hooked under doors and cause trips. The L-shaped carpets measure 19.7 x 31.5 in and 19.7 x 47.2 in.
16. Mattitude kitchen mat 2-piece cushioned anti-fatigue

.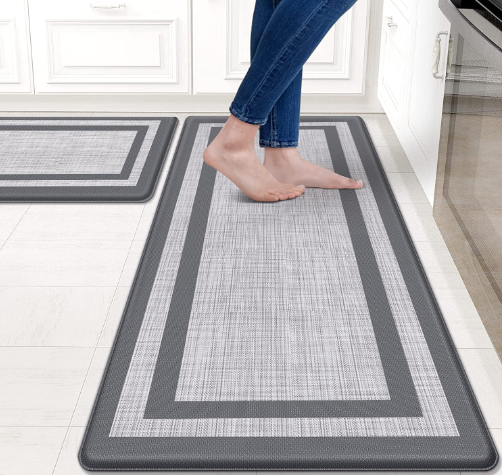 The Mattitude kitchen mat is eco-friendly. Strong, robust materials hold their form even after extensive use. The 0.40-inch anti-fatigue kitchen mats combine soft texture and solid support. It's like walking on a sturdy cloud. Kitchen rugs are 17.3 x 47 and 17.3 x 29 inches. The foam mats' design and color are excellent for household or business use.
Non-skid kitchen mats and rugs include non-slip backing to keep them stable and prevent them from moving or sliding, boosting safety. 
17. Montvoo kitchen rugs rubber non-slip

.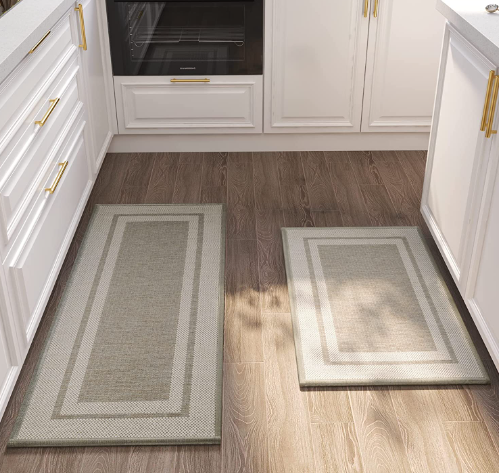 Unlike PVC-backed mats, one hundred percent natural rubber won't break or disintegrate after long-term use. A thick rubber foundation improves this kitchen rug's slip resistance and floor protection. The enhanced kitchen mat material is absorbent, preventing water and grease from soaking the floor. Prolonged foot traffic can harm wooden floors. This is why you need this non-slip rubber rug, which is also soft and comfortable.
The tightly knit cloth keeps dogs from scratching and won't discolor or fade. The durable design is also great for high-traffic areas; vacuuming this kitchen mat is recommended. The rubber backing has a wear-resistant surface and an absorbent layer with a solid edge to prevent shedding, disintegration, and shrinkage.
18. Wiselife kitchen mat cushioned anti-fatigue kitchen rug

.
Wiselife's extra-thick anti-fatigue kitchen mats are scientifically designed to give cushioned support and enhance circulation and posture while cooking or doing any other type of repetitive activity. The foam mats are also great throughout the house since their style and color palette complement the decor.
The non-skid washable kitchen mats and rugs' ingenious beveled edge and non-slip backing mean you do not need to worry about sliding or falling. Padded kitchen floor mats offer soft safety without adding too much bulk to the floor. With a textured top and a non-slip PVC bottom, these mats won't slide across the floor like others.
19. KMAT kitchen mat 2-piece cushioned anti-fatigue rug

.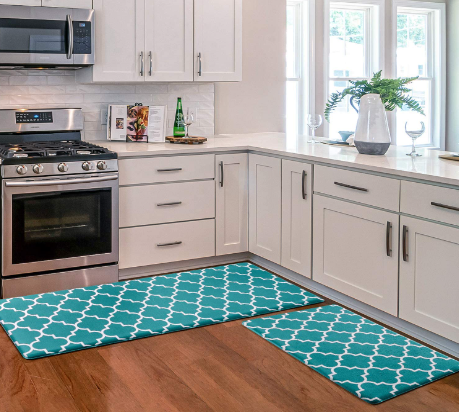 Since the KMAT anti-fatigue kitchen mats are designed with ergonomics, their extra-thick construction offers cushion and support that will ease your feet and legs when you stand at the stove or any other workstation. In addition, the anti-fatigue gel mat features a non-slip substance at the bottom and an appealing textured design on top. The memory foam mat is versatile and may be used in more than just the kitchen (tile, wood, ceramic, marble, etc.).
All you need to clean these washable, non-slip kitchen mats and rugs is a moist cloth or a handheld vacuum on the spot to remove grime. Due to its waterproof coating, it will last a long time.
20. Supenuin kitchen rugs and mats 2 pieces

.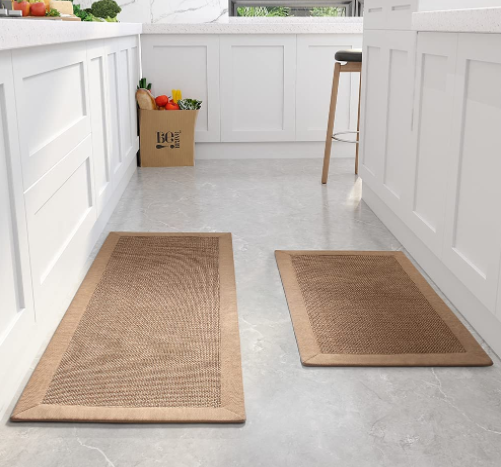 Wrap-around edges make these kitchen mat sets last longer. This kitchen carpet won't shrink or fade over time. Due to the mat's soft and resilient surface, pet claws or sharp objects won't damage it. It is soft and has a high-quality surface that prevents the mat from sticking to bare feet. In addition, it provides cushioned support for standing and working in the kitchen or elsewhere.
Water-absorbent kitchen mats may prevent greasy water from staining your floor while cooking, keeping your kitchen clean. The textured bottom keeps the mat in place and prevents slippage.