Corner pantries are intended to take up a significant portion of the storage space in your kitchen. This is often where excess food is stored, and your other less-used kitchen utensils are stored. If you're a gastronomist, you're probably a bit overwhelmed by the number of things that must fit into a corner pantry. 
There is a way to make this manageable. This post on how you organize a deep corner pantry will help you put things right.
You decide how to set up a corner pantry. Most proponents of the organization say that clearing out your cupboard is simple.
How do you organize a deep corner pantry?
Sort out your possessions
Sort your food into categories while spread out on your counters or kitchen
table. You may categorize things broadly, such as snacks, grains, and morning foods, or narrowly, such as granola bars, pasta, oats, and cereals. Then, store any goods that are similar together.
Organize your pantry into distinct zones
This is why organizing is critical to have a well-stocked pantry. First, you should know the frequently used items you have in each category. For example, if you maintain a considerable quantity of pasta on hand, that zone should be more significant. Alternatively, if you have multiple boxes of fruit snacks and granola bars in your pantry
, you'll want to create a large snack zone. 
Creating distinct zones for each category can assist you in the future in locating items more simply. For example, you'll know which shelf to visit when needing a can of beans or a bag of rice, and you'll also be able to keep track of when you're running low on anything. When arranging a large pantry, dividing it into zones is critical to avoiding food waste.
Store frequently accessed objects in a convenient location.
The pantry item your family most often uses like cereal and bread; store them in the pantry's most convenient location. If you have a walk-in pantry, locate it closest to the entrance so you can easily reach in and retrieve anything. If your deep pantry is housed in a cabinet or closet, choose a shelf that is readily accessible.
If you have children, keep snacks high.
Have you ever seen your youngster nonchalantly exit the pantry with a bit of a snack? If you have foods that you do not want your children to get on their own, store them higher up or in a location where their little hands cannot readily reach them. Utilize a higher shelf to keep objects you do not want your children to touch.
Similarly, if you want them to reach anything on their own, place it lower or on pull-out shelves so they don't want your assistance.
Move new stuff to the back of the closet.
Just like you would at a grocery shop, place more items underneath what you currently have. Unfortunately, when this may seem self-evident, it's all too easy to toss your new food to the front of the shelf while attempting to organize your shopping.
Even if it takes a few more seconds each time you go grocery shopping, pull forward the products you already have and place your new canned goods and other foods at the rear.
This guarantees that your food does not spoil or go unused at the back of the cupboard. This method is particularly effective if your pantry has deep shelves.
Arrange items in sizes
When it comes to deciding what to keep towards the back of your deep shelves, it's a good idea to arrange by size. These lengthy spaghetti boxes should be positioned behind shorter boxes or containers. This way, you can easily view all items on the shelf without moving anything, regardless of whether you organize them by a basket. 
You can use a bin or basket for each category, but you still have to categorize your products inside each basket according to size.
Use matching containers or baskets.
In a pantry, matching baskets or bins give the appearance of being well-organized and neat. Bins and baskets are handy for organizing a large pantry since they enable you to establish certain product areas and prevent them from being buried.
Using transparent containers to store baking goods
This will assist in elevating your pantry. Buy transparent containers
for your baking items, such as sugars and flour, and dispense with the bags they come in. Clear bins should be readily available at container stores.
If you choose large, transparent containers, you can stack them neatly and organize your pantry while conserving space. In addition, you'll be able to observe when any of your baking materials are running short.
Everything should be labeled.
It would be best to label boxes and containers but also label shelves. Labeling is one of the most effective organizational techniques available. Not only will this make cooking more straightforward, but it will also assist you in keeping your newly organized deep pantry.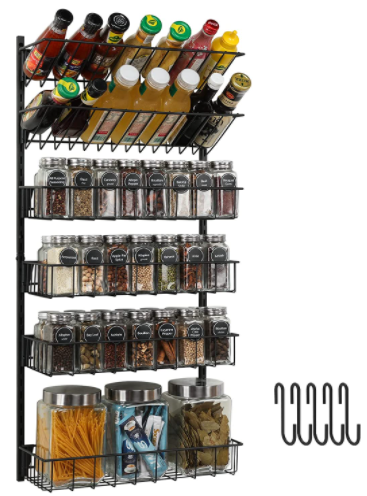 Utilize door-mounted shelves.
If you store your pantry in a closet and have a limited amount of space, consider hanging shelves or door baskets. You may use them to store canned goods, jarred goods, baking ingredients, and even spices! Even if you have a separate pantry and want more shelving, you can find some over-the-door wire racks
 online.
Increase drawers in the pantry for more storage capacity
Drawers make organizing easy, and you won't have to continuously move objects in the front to get those in the rear, as you can pull the drawer out and access everything.
Additionally, it will help you save space on your shelves by using the unused area. Finally, you can get a modest set of wire or basket drawers for your pantry.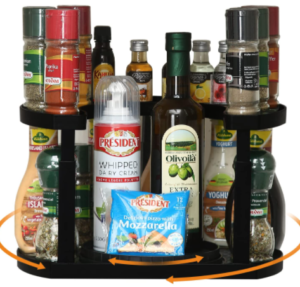 Incorporate a lazy-susan into a corner.
Investing in a tiny lazy Susan for any difficult-to-reach areas or high shelves is ideal. For example, you won't have to remove a mountain of items off the shelf to reach the rear cans or spices. In addition, lazy susans can come in handy when organizing a large pantry.
Allow enough room around the lazy susan for you to turn it around rapidly, and you're ready to go! It organizes and functions as a pantry organizer.
Create a separate area for backstock.
It is an ideal option if it has top or high shelves that are hard to reach. Place your excess goods up there and bring them down just when necessary.
Of course, this may not apply to everyone. For example, your pantry may not have enough space for a backstock section, but if you habitually purchase items on sale and store them later, designating an area for all those extra goods will help you keep organized.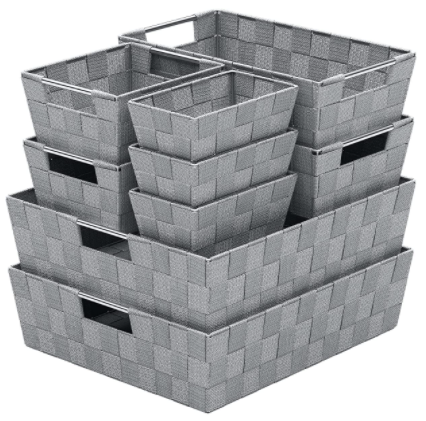 Straw bin
Straw bins and baskets are popular for playrooms, workplaces, and closets, but they also work well in the pantry—stack canned items by category. Alternatively, you may use them to store items such as napkins and tablecloths. 
Convert shelves into drawers
Drawers that pull out enable you to stock your pantry to capacity without fear of losing your spaghetti sauce in a hard-to-reach corner. Sort your drawers by item type to create a more unified storage system. Painting the cabinets can add more beauty to the closet pantry area.
Related Post: How to Organize a Small Corner Pantry
Plastic containers 
Flat containers stack well in a pantry, maximizing the use of available space. Organize grains, breadcrumbs, rice, and nuts in them. Custom containers slide out of the shelves in this ultra-organized room, allowing simple access.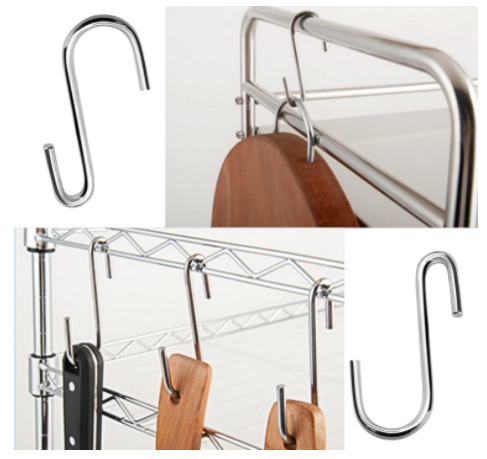 Hanging pegboard
Rather than stacking heavy pots and pans on top of one another, mount a pegboard on an empty wall. Suddenly, heavy items are visible and accessible with hooks and shelves for storing separate kitchen and pantry items.
Insert dividers
Invest in drawer organizers kitchen
to keep your bottles, cans, and other pantry goods upright in their proper drawers. You can add flexible dividers to prevent alcohol bottles from clanging together; separators are helpful for just about anything in your pantry drawers.
Utilize the Ladder
Suppose you have plenty of vertical space in the pantry and extended cabinets to the top of the wall; a steep library ladder adds flair while allowing you to access those objects stowed at the ceiling.
Cabinets drawers
You can get those items that are eventually moved to the back of the pantry. Next, add drawers to optimize your cabinets by removing the sides and converting them with drawers.
Cover the walls
There are not always sufficient hours in the day to arrange all your food. However, that doesn't mean you can't hide them. For example, hide pantry items behind cabinet doors and decorate them with wallpaper.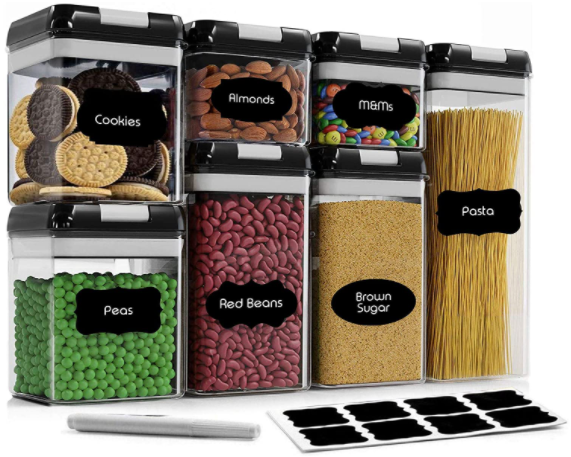 Use pre-labeled jars
Store food in traditional ceramic jars with labels to get a more traditional aesthetic.
Establish a cookbook wall
If you have an endless collection of cookbooks and no way to organize them, here is the answer for you. Create a space on your pantry wall and add the cookbooks.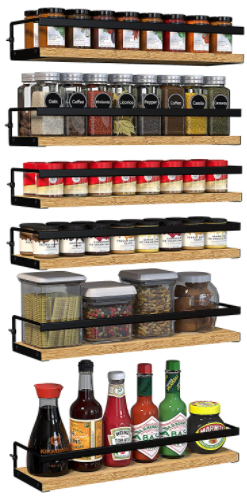 Add floating cabinet
If you want quick access to your spices while cooking but also want to conceal them, conceal them behind a painted door on a floating storage
cabinet. No one would suspect it is anything more than a wall ornament when closed. 
Turn the unused corner into a functional space.
You may utilize an underused nook in the kitchen or an adjacent corridor if you lack a separate pantry area. All that is required is a modular rack with sufficient storage. Add a lovely area rug to make it seem more polished and deliberate.
Add mitt hanger
Hang oven mitts, towels, and aprons from the side of your pantry door. Thus, your linens will not take up valuable drawer or shelf space. 
Conclusion
While planning and organizing your deep corner pantry, remember that it should be an efficient and easy-to-maintain structure. You don't want to spend hours scrubbing, cleaning, and organizing your pantry if it becomes a disaster the next time you bring food home. Therefore, ensure that your technique for organizing your deep pantry works for you. 
Consistently store items from shopping appropriately. Maintaining a well-organized cupboard can greatly simplify cooking!