It's not uncommon to see butler pantries in the media (including movies), as those old-style Victorian buildings are often chosen as shooting locations. It is also not uncommon to see bar areas in homes using the same architectural style. That said, we will look at the difference between a butler pantry vs. bar.
The butler pantry was a dining room and sitting area used during Victoria's reign at the turn of the century. It featured a large table in the center of the room, where family members often sat to eat. In addition, many had writing desks and sideboards, usually along one side wall.
They were so common because people used them to hide and keep the servants out of the way, especially in high society. However, the butler and upper class often ate in the butler pantry. All of this changed during World War I, with the rise and spread of servants being replaced by chefs or housekeepers. The butler pantry then fell out of favor for several years due to its association with high society.
As for its revival, most people who update a historic home seem to place a new butler pantry on a more modern level (like one in an attic) rather than on a higher floor like its historical counterparts.
What is a Butler pantry?
Like food storage pantries, usually referred to as larders, a butler's pantry is constructed with utility in mind, making the most of its available square footage with custom-made shelves, drawers, and cabinets.
What is a bar?
A bar is an area mainly for entertainment purposes. A bar is where house guests are served drinks and entertained; you usually store beverages or alcohol, glassware, and more. 
A bar is more than just a location to get a drink; it's also a place of self-discovery.
It also serves as a command post for tracking inventory levels, customer orders, and drink prices.
The high level of service and the bartender's capacity to deliver practically whatever drinks or cocktails the guests may request have made cocktail bars a popular meeting location.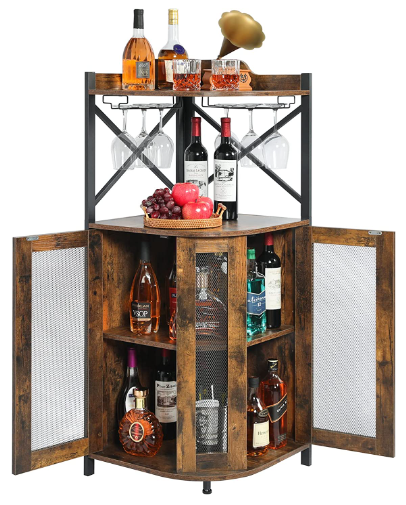 Types of bar
Permanent bar (stand-up bar): A bar that's part of the store's decor. It's a three-part bar. First, it serves bar guests directly and fills server-brought drink orders.
Service bar: A pub that only offers table service, generally with drink refills. Sometimes it's in the dining room, and it's usually hidden.
Mobile bar or portable bar: This refers to a moveable bar; parties, banquets, and caterers often use it.
Beverage Bar: A home location for storing alcoholic beverages and glasses with beautiful home bar furniture and accessories. Beverage bars enhance any kitchen design. In addition, it simplifies entertaining and making coffee in the morning.
Entertainment Bar: Music bars, live venues, and nightclubs are bars that offer live music. Cheap dive bars and upscale entertainment venues typically accompany eateries. A bar or lounge is a natural place to dance.
Restaurant Bar: The term "restaurant bar" is commonly used to refer to any area of a restaurant other than the dining room where customers can purchase and consume alcoholic beverages while at the establishment. Bars and restaurants feature stools and bar counters, respectively. Bars have bartenders and servers. Bars are loud, with strangers drinking, talking, and laughing.
Differences between a bar vs. butler pantry
A butler's pantry is built with functionality, making the most of its space with custom-made shelves, drawers, and cabinets, much like a food storage pantry, which is more commonly referred to as a larder.
A bar is a public gathering place where people go to have fun. A home bar is a room or area in a dwelling dedicated to the storage and service of alcoholic beverages and other drinks, as well as the entertaining of guests.
Near the kitchen, a butler pantry is a convenient place to store and prepare food. Items like silverware, china, and linens are commonly kept in the butler's pantry. On the other hand, a kitchen bar can be remodeled as a pantry or food preparation area.
Why do butlers sleep in the pantry?
A butler secured them in locked cupboards to protect these priceless heirlooms from robbery. In this room, some of the butlers even slept. These days, a butler's pantry is a storage and preparation area situated near the kitchen or dining room.
What should you have in your butler's pantry?
Other butler pantry essentials include ample tables and cupboards for putting away silverware, dishes, and serving utensils. Storage trays, baskets, or boxes for your favorite beverages, snacks, coffee beans, or glasses with a decorative touch.
Butler pantry's main purpose.
The butler pantry's primary purpose is 
To serve as a kitchen and storage area for the kitchen. It will include a sink and storage for plates, glasses, pots, pans, and even some food items. The pantry will usually be closed off from the rest of the kitchen with sliding or swinging doors that open onto the main kitchen.
It can also be used as a breakfast/dining room where people can sit at it and eat their meals or enjoy coffee or tea. 
During the day, especially during the winter, it can also be used as a meeting room.
The butler's pantry can be used as an additional bedroom on the lower floor of a house. Some houses have them on different levels to meet the needs of all family members. 
In some homes, butler pantries are sometimes combined with other rooms and designs like an open living room or an office for extra storage space for file cabinets or media centers.
You can use the butler pantry to provide storage space for dishes, silverware, cutlery, crockery, linens, and other items. 
The butler's pantry looks best when it is painted in a light color with many cupboards and closets built into it; this provides extra storage space and helps to highlight its design and use. A chair and a couch are good choices, as are a table and a desk. A china cabinet or some decorative pipes built into the wall would also be a nice touch.
Some homeowners also choose to keep their butler pantries as storage space and instead use them as a bar or display area for their appliances and gadgets. In addition, the butler pantry can be used as a home theater room, playroom, or game center. You can almost reuse the butler pantry in any way you like; remove some shelves and change the lighting, paint job, and flooring to fit your taste.
Homeowners can use their butler pantry for bar storage and convert part of their kitchen into a bar. They wanted to create an open-concept home without the expense of installing an open kitchen design, so they dug out part of their kitchen counter to make a bar space.
To create the bar space, they had two islands installed, and on one side, they put in some extra cabinets for storage. They also added a wine rack on the wall above the island—it's a great way to store bottles and, simultaneously, decorate your walls in style!
You can use your butler pantry as a bar, or you can also use bars within your butler pantry—it's all up to you. If you want the help of architects to create an open bar space, they can draw up blueprints and provide a quote for your space.
Home bar unit
Home bars unit and bar sets are great together since they have everything you need to host parties in the comfort of your own home. A home bar unit is a terrific way to entertain guests, host intimate gatherings, or unwind after a stressful day.
Conclusion
Another common way to update butler pantries is by using them as a bar area for your kitchen. If you have a large kitchen and don't use your butler pantry for storage, you may want to consider converting it into a bar area. It's a great way to maximize your kitchen space and give it more "pop" than traditional pantries.
You can also use your butler's pantry as storage for appliances at the same time. For example, if you want to free up space in your kitchen, you can remove some shelves and install cupboards below them. This will create additional storage space below the butler pantry, so you can use it just as a prep area instead of storing everything down there.
But another way to utilize those large butler pantries is by using them for entertainment. Many homeowners use part of their butler pantry
for entertaining functions, whether a bar, game room, or conference table.
Most homeowners used their butler's pantry to create a wine-tasting room. Add some pretty lights and some shelving where they can store their wine collection. They remove a few of the shelves in their butler pantry and replace them with wine racks so they can have a space to entertain guests and store their wine collection.