Both the pantry or utility room seem the same, but they are actually different from each other. In this article, we will be discussing some similarities and differences. In the end, you will be able to decide which is best for you: the pantry or utility room.
What is a utility room?
A utility room is a small space in a house where pieces of equipment that are not used daily are kept. Because "utility" refers to an item designed for usefulness or practical use, most items kept in this room have functional attributes. For example, a utility room, a descendant of the scullery, is typically where laundry is done.
What is a pantry?
What exactly is a pantry in a home? A pantry is a room that stores beverages, food, and occasionally dishes, household cleaning chemicals, linens, or provisions. Food and beverage pantries supplement the kitchen's functions.
Is a utility room worth it?
Is it worthwhile to invest in a utility room? Most people want a utility room to store all the large, bulky appliances that take up space in their homes. It's also an excellent place to keep muddy shoes, the dogs' leashes, firewood, and other stuff that don't belong in the kitchen
or the rest of the house.
Does a utility room add value?
Make room for a utility room. Adding space specifically for a utility room can be a practical addition and add value to a house if you have gone the open-plan route. It keeps the noise of white goods out of the living space and provides a place to store laundry and cleaning supplies.
Does a utility room need a window?
Is a window required in a utility room? While a utility room does not require a window, it must be ventilated according to building codes. Heat and moisture can quickly accumulate in a utility room due to the use of appliances like a tumble dryer and the presence of damp laundry.
Utility room vs. laundry room
What is the difference between a utility room vs. a laundry room? The distinction between the laundry room and the utility room is based on the nature of the usage. The laundry room is primarily used in American life, whereas the utility room is European. Both spaces are for washing, but utility rooms are used for multiple tasks, whereas laundry rooms are only for washing clothes.
The main difference between a laundry room and a utility room is how the room is used. 
The laundry room is only used for washing clothes, whereas the utility room is used for various tasks other than washing clothes.
The laundry room can be found near the kitchen and the bedrooms, whereas the utility room is always found near the kitchen. 
The laundry room is stocked with items needed for washing clothes, and utility rooms include trash cans.
The laundry room has storage cabinets for washed and unwashed clothes. 
In contrast, the utility room has large storage cabinets for almost everything unwanted in daily life, in addition to laundry items.
Laundry rooms are standard in North American homes, whereas utility rooms are standard in European homes.
Where is the utility room in the house?
A utility room is a room in a house typically connected to the kitchen that contains items such as a washing machine, sink, and cleaning supplies. You can find utility rooms in the kitchen or close to the kitchen, sometimes behind the building in the form of a storeroom.
How big is a utility room?
Dimensions of 8 to 10 feet in width and 8 to 10 feet in length are possible. This is typical of the size and square footage of many homes today. As a result, there is sufficient space for appliances, a counter, cabinets, and a wash sink.
How to improve the appearance of my utility room?
Good storage
is essential for making a utility room look appealing. Put as much as you can behind closed doors, including appliances, and the space will always look tidy, no matter how decorated it is.
If your utility room is adjacent to your kitchen, selecting cabinetry that is identical in design but a shade or two lighter colors can be an excellent way to connect the two spaces.
Lighting is also important because it can make a small space feel larger, especially if there are no windows or doors to let in light or allow ventilation.
Finally, decorative details such as bright floor tiles, cute wallpaper, and a shelf of pretty tins to hide laundry tablets will create an appealing finish.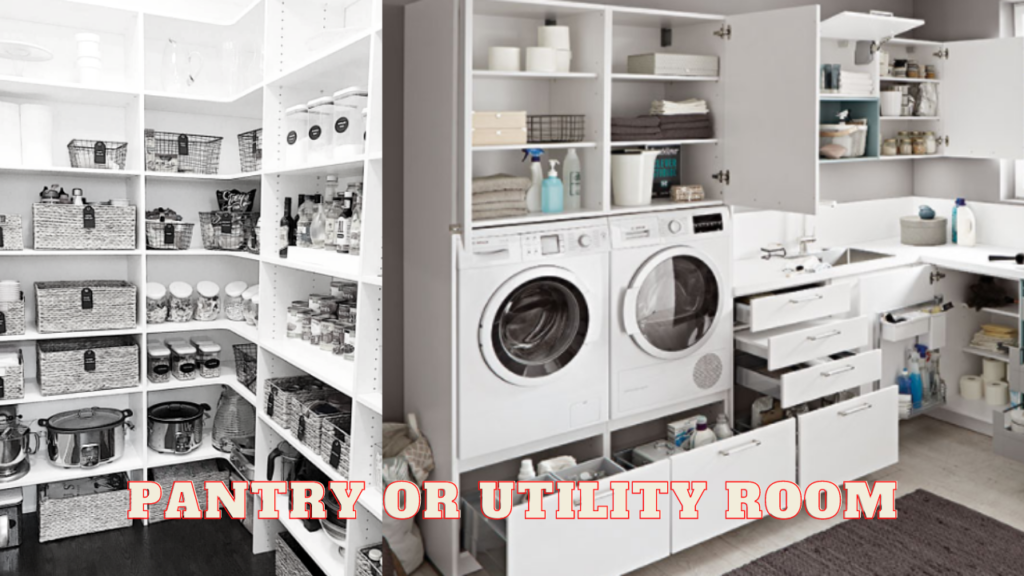 Utility room ideas
Utility room ideas that make yours a highly functional space are critical. But it's also essential for a utility room to be fashionable and efficient, so it's not only a space with functionality but also some flare.
Utility rooms are frequently positioned off the kitchen, and if this is the case, you'll want to think about how the two areas complement one another for a harmonic feel when deciding on a new design.
Browse other utility room ideas for layouts, appearance, storage, design ideas, and more. You may then save the best possibilities for your area, and whether you're designing the room yourself or working with a designer, they'll give you a nice place to start.
With these utility room ideas, you can make room for all of the duties you want to complete while also making your area a pleasure to spend time in.
Below is my complete list of Utility room ideas:
1. Maximize space by using floor-to-ceiling storage.
In the utility area, there is blue shoe storage. The ideal approach to optimize space is to construct floor-to-ceiling storage with high-level cupboards used for infrequently used goods like flowers and party platters, accessible via a step ladder.
If you have the space, bench seating offers a place to relax and change shoes, as well as helpful underside storage. Stack appliances to make more floor space, then hang a laundry pulley from the ceiling to dry linens. Install it over the sink to allow wet garments to dry without causing puddles on the floor.
2. Select durable and low-maintenance flooring
Because a utility room is a busy, dynamic environment, it is critical to select flooring built to last. Natural stone is warm in the winter and cools in the summer. A wood impression has flooring that looks like wood planks but is more practical and durable. Whether you carry the kitchen floor into the utility depends on whether you want to unify the area or create a statement room in its own right. Patterned floors can delineate the space and add a wow factor.
3. Make your utility room functional from the bottom up 
People frequently place a Sheila Maid airer at the top of their utility room wish lists. It's ideal for saving space and searching for compact utility room ideas. Still, it's also popular in historic country houses since it enables natural air drying for your laundry while also creating a vintage style statement.
While a utility room is generally an 'out of sight' place that only you and your family members will see, it is critical that it looks beautiful and works for your lifestyle – after all, you will be using it most days.
This design, for example, has a particular personality thanks to hand-painted cabinets in a deep charcoal grey and an equally striking floor. As a result, there's plenty of room to hang clothing, as well as a sink, tumble dryer, and washing machine.
4. Elevate it to the ceiling
Easy use and accessible storage are critical when creating a utility room. This Classic oak ladder can be pushed along the rail to safely access the higher cupboards, offering loads of utility room storage and maximizing available space.
While floor space in a utility room may be restricted, towering cabinets may maximize your benefit. By elevating the height of the washing machines and tumble dryers, the area can be more functional, with less reaching down to empty and load the machines.
5. Consider storage carefully.
How you lay out your utility room storage may make or break the functionality of your utility room. If you have the room, try making it all about cleaning – put the dishwasher, an extra sink, and all of your cleaning lotions and potions in there.
If your utility room is going to be versatile – for example, integrating laundry and storage for the vacuum and carpet cleaner – zone the area and assign each cupboard a specific duty.
It will change the vibe of your kitchen and turn it into a more lifestyle-focused or entertaining environment since all of the chore-related activity takes place in a spare room.
6. Take up space in a kitchen.
When establishing a new utility area, removing space from a kitchen is common. This is practical since you can utilize existing plumbing and electrics, but it can occasionally leave you with an inconvenient and limited utility room area to deal with. In this case, stick to light colors to keep the space feeling bright and airy, and consider a handleless design for a more streamlined look.
7. Check out the bright side.
Make a monotonous location for domestic duties into an inspiring place to be. You can paint the cabinet in a bright and joyful Sunray hue, and the natural light that flows through the windows adds to the room's appeal. If you're hesitant to try out dramatic kitchen color schemes, the utility room is a great place to let your creative side shine.
You don't need too many ornamental features. If you have small children, incorporating a chalk noticeboard to write pictures and messages may be a fun idea.
8. Use a cost-effective approach.
Most homeowners will renovate or build a new utility room while they revamp their kitchen. While this is a cost-effective approach, most of the expenditure will probably be allocated to the kitchen because it is the most visible and used.
In terms of counters, if you've chosen lovely quartz or equivalent in the main kitchen, you might explore a similar style in a more cost-effective finish for the utility room. For example, laminates have several marble-esque, granite, and even sparkle-flecked possibilities that may precisely mimic your kitchen.
9. Select vinyl flooring appropriate for the task
Because your space may serve as a boot room or dog grooming area, it should be resistant to muck and wear and tear. Therefore, vinyl flooring is not only a cost-effective solution, but it is also a functional one. 
Fortunately, there are a plethora of finishes to select from these days, ranging from those that replicate wood and stone to flighty patterned finish a dash of design while hiding annoying footprints.
10. Work in the kitchen
We find that most people replicate the look and feel of their kitchen in the utility room – similar countertop and color method, maybe with a variation on the handles. To avoid the tiny area seeming crammed with too many wall cabinets, include rails, open utility room storage ideas, and baskets when organizing your cabinet.
Box shelving is a terrific way to free up a wall and offer storage, and it can also be painted to match other cabinets' colors from the area.
11. Don't decorate; play with it
Combine practicality and durability with a realistic style that doesn't seem over-dressed. Decorate just if it serves a purpose; therefore, I'd advise against putting up portraits or properly positioned objects – let the space determine its decorating.
No gardening supplies can compete with the aesthetic appeal of seed packets, terracotta potted herbs, and flowers in jam jar vessels and baskets, all of which may be found at your local home improvement store.
12. Glow up
Consider several lighting options if your utility room is located in a dark or dimly lit region of your home. Adding lights like the under-cabinet strip lighting and task lighting to your favorite design colors are likely to build up without windows, so consider extra ventilation.
Vented tumble dryers must be mounted against an outside wall. If this isn't doable, you'll need a condenser dryer.
13. Create a utility room view
Instead of a door, create a persistent visible relationship between the two places to create a distinct divide between the kitchen and utility while keeping the two areas cohesive. For example, add large Crittall doors to allow you to see the children while cooking or washing. It also lets in natural light. A dramatic floor and painted kitchen cabinets in rich charcoal grey can give the area its personality.
14. Choose a large sink
A large sink might be ideal for a utility room, used for purposes other than cooking. It is deep enough to soak clothes and clean muddy boots, and the ceramic surface makes it simple to clean. 
15. Cabinet color surprise
The right cabinet color may make a utility room more appealing than practical. You can pick a more fun color than the kitchen to add individuality to the space. The modern cabinet with light pink looks fresh and brightens a little darker. On the other hand, a utility room might be the perfect place to use a color you're scared to use elsewhere.
16. Wallpaper
Utility rooms are amenable to bold décor. Due to its short duration, it is also a wonderful place to test out new décor ideas. Smaller spaces benefit from bold colors and patterns. Consider refinishing the kitchen cabinets to provide a sense of continuity and flow between the two rooms, especially if there is open or glass access between them. 
Clear glass items in front of the wallpaper keep it visible, and silver finishes blend with the wallpaper's hue, making the space seem more attractive than functional.
17. Review counter materials
Like in the kitchen, utility room worktops must be durable and sanitary. Choosing the same material for both places creates a sense of continuity and is excellent for utility room ideas that connect the two spaces. 
18. Reuse unfitted furniture
Custom cabinets for a utility room may utilize every inch of space and create a design that meets the area's usage and storage needs. For a unique finish, try a standalone piece of storage furniture. Like other furniture used for storage, antique linen cabinets are still functional today, with an inside design accommodating folded linens and towels.
Size up a design that reaches the ceiling to use otherwise wasted space. For example, in a tight area or near front-loading laundry equipment, be careful to measure the width required to open the doors.
19. Streamline it
Stacking front-loading washers and dryers may save space. However, the weight of the top machine must be supported by purpose-built cabinets, and its height must be suitable for all room users.
Flat-fronted cabinets keep a utility room looking modern, and handleless cabinets work well in compact areas where every inch matters. You can try two washers and dryers with enough space to cut laundry processing time in half. Commercial clothing steamers have also grown popular for reducing dry cleaning journeys. An additional fridge, freezer, and dishwasher, particularly if you entertain often, may sometimes be found in the utility.'
20. Consider an open setup
A utility room that is part of the kitchen rather than a separate room might be a more handy option. Many advantages come from having a utility room next to a kitchen. Having a utility room adjacent to the kitchen is convenient since you can immediately retrieve everything you need. Having a utility room next to the kitchen also helps free up space for kitchen storage solutions. In addition, consider the noise levels of appliances to prevent washing cycles from interfering with kitchen activity.
21. Plan covert storage
Consider slide-out solutions instead of hiding stuff in a utility room behind cabinet doors. Slide-out storage has the benefit of being easily accessed. Cleaning and repair kits, for example, may be transported conveniently.
22. Catering activities
You may use a utility room for more than just washing and can arrange flowers from the garden or the store. If yours does, consider adding countertop storage for vases of various sizes and shapes to accommodate your displays for catering kinds of stuff.
23. Work with materials and finishes
To add interest to your utility room ideas, consider a variety of textures and finishes. For example, you may also use glazed cabinets in the bathroom if you choose the proper glass. With this design, the reeded glass pieces make the area seem lighter and provide character to the cabinets. That way, you don't have to be too neat behind it, and it offers a fresh texture.
24. Window dressing
Utility rooms are frequently windowless, but you may employ an appealing decoration if you have one with a window. For example, a Roman shade with gentle pleats adds a soothing touch to a design of unyielding surfaces. Like this room, you may hang it above the window to avoid blocking any light and make the area brighter.
Interior plantation shutters are a great option. These are simple to clean, adjust light and privacy, and block direct sunlight as needed to keep the area cool.
25. A laundry chute
Laundry chute features can make life easier in the utility room design. For example, this one features a laundry chute ideal for a laundry room: A floor above the bedroom saves carrying laundry across the kitchen. The room's cabinets also make it easier to use, with built-in storage for an ironing board and linens.
26. Floor pattern entry
When creating a utility room, introduce a pattern to the floor, which is the most fantastic canvas in a room with cupboards and laundry equipment. The patchwork-style tiles make this place inviting. They also take up a warm tone that ties to the hallway wallpaper. In addition, tiling a utility will be low maintenance and resistant to water splashes.
How do I get the most out of a small utility room?
In a small space, cabinets on legs give a space illusion since the floor is seen from all sides. In addition, you may hide the heavy designs of appliances behind doors to make the area seem bigger. This approach also emphasizes the room's furnishings rather than its functional features, creating a more beautiful plan.
To maximize storage in a compact utility room with few options, follow the designer's lead and install shelves on the side of tall cabinets.
Make room for a big sink.
It's easy to overlook a utility sink when you have a double sink in the kitchen. But a big sink is essential for a utility room. In addition, a huge Belfast sink is helpful for chores that don't belong in the central kitchen. For example, go as large as you can to hide filthy pots and pans while entertaining.