There is a reason why glass and plastic materials are used in storage for the pantry, and there is also a similarity between the two storage systems. You should be able to choose between glass vs. plastic pantry storage options after reading this article. 
Many people have a pantry designed with aesthetics in mind; it might have glass doors or drawers made of wood or metal. But some people don't want to use this material because of its potential health risks, such as lead and BPA contamination. This post will cover the advantages and disadvantages of both pantry storage options, so you can choose which is ideal for your house.
Some people use glass shelves instead of plastic shelving because they want the food to stay fresher longer. Others may choose plastic for convenience's sake. Either way, you need to make these considerations when deciding what kind of storage solution you need in your food pantry.
Glass vs. plastic pantry storage
Glass and plastic are the two primary materials used in pantry storage. Consider these two materials' advantages and disadvantages when choosing your pantry storage alternatives. Let's examine the advantages and disadvantages of glass and plastic storage to decide which is best for you—starting with the advantages and disadvantages of glass storage.
Pros and cons of glass pantry storage
For many people, appearance is essential when it comes to pantry storage. This is why many people have clear glass or crystal storage
instead of opaque plastics such as white or gray.
However, you may still need a sturdy shelving material because glass shelves are prone to breaking or chipping. For example, the impact of dropping a bowl of pasta on a glass-shelf pantry could cause you to break the shelf and hurt yourself in the process.
Even so, some people prefer the appearance of glass containers, like those with clear or crystal pantry containers. This is because crystal pantry containers can attract more ambient light and look brighter than other glass shelves. But even though glass brackets can look pretty, they are still susceptible to chipping, so you might replace them over time. This is particularly true if you want to display items on your pantry shelves that could break or get damaged, like jam jars or glass bottles.
If your food pantry has glass doors, it could still break if you drop something against them. For example, if you keep a basket full of baking sheets in your pantry and you need to remove them, you might accidentally drop one of the sheets on the glass door and crack it.
Pros and cons of plastic pantry storage 
Plastic storage is also prone to chips and scratches, but most plastic storage will not break or chip even if dropped on the floor. Therefore, plastic shelves tend to be more durable than glass storage. 
Plastic is also less expensive than glass, so this is important when choosing which type of storage solution your pantry should have.
Some people choose to use plastic storage even though they want aesthetics. The problem with plastic is that it can harbor bacteria such as E Coli and listeria. After all, plastic contains BPA, which is used as a stabilizer in most plastic products. You can find out more about BPA here
.
Some plastic products contain BPA to add flexibility or resistance to substances that could harm the product, like heat. However, because there are no FDA regulations on levels of BPA allowed in plastic, you might find high amounts of BPA on some plastic pantry shelves.
One study examining the effects of a diet rich in soft drinks on humans found that those who drank something that contained high amounts of BPA had many epigenetic changes in their DNA. In addition, the researchers discovered that humans couldn't produce BPA naturally, so it eliminated this class of chemicals from food, toothpaste, and plastics as early as 2010.
Best glass pantry storage containers
We have also put together some of the best glass pantry storage containers that are chemical-free and can withstand high heat.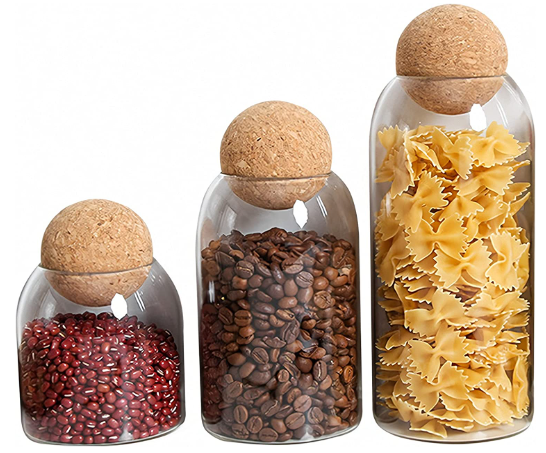 You can use this sealed storage tank in the kitchen or pantry with a spherical oak stopper and high borosilicate glass. It is available in three sizes for different seasonings, nuts, wheat, spaghetti, etc. The bottle mouth's natural oak cork is made of the same stuff as a wine cork. You can use glass jars on appliances around the house, such as refrigerators and microwaves. 
The interior of the tank may be easily seen because the tank's body is transparent. As a result, it is possible to identify the type and number of objects kept inside the storage box without lifting the lid, saving time and space. In addition, with these beautiful jars, you can improve the cabinet's aesthetic appeal.
The jar's opening is big and readily washable with liquid and detergent because the entire container is smooth; then wipe the lid with a cleaning solution.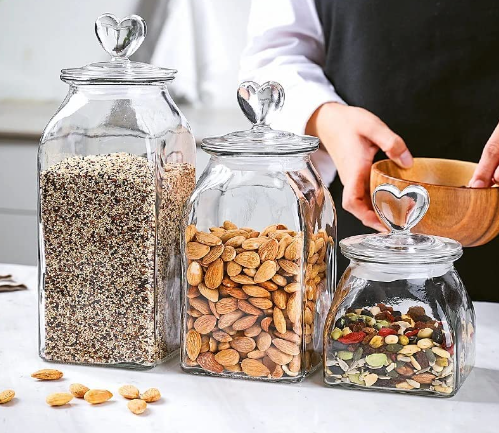 Of course, the container is made of glass, and its capacity ranges from 600 ML to 2000 ML. High borosilicate glass can tolerate an immediate temperature change of -30 °C to 120 °C and is more transparent and textured. It is a useful container to keep dried fruit, bean tea, spice, and other things. You may select from a wide range of sizes to satisfy your storage demands.
Extra Large Glass Food Storage Containers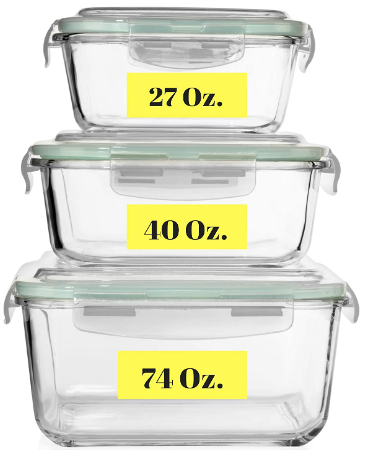 It includes three glass food storage containers, extra-large, large, and medium. It is silicone-sealed, BPA-free plastic lids that are airtight and watertight; it is a dishwasher, microwave
, refrigerator, and freezer-safe reusable. Oven is safe without the lid up to 932 degrees Fahrenheit. Maintain freshness by serving leftovers directly from the refrigerator to the oven or microwave to the table. 
3Pcs Glass Storage Tank with Lid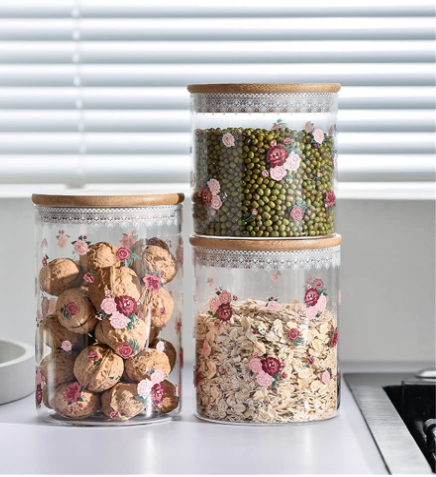 Additionally, it is a viable option for preserving spices and other items. Utilize boxes, sealed cans, and refrigerator storage.
prolongs the freshness of food with handy storage, safety, and security. The glass food storage jar may be used as a glass coffee jar. It is great for keeping dry foods like coffee beans, food, dry goods, tea, and other items.
3pcs Glass Storage Jar with Lid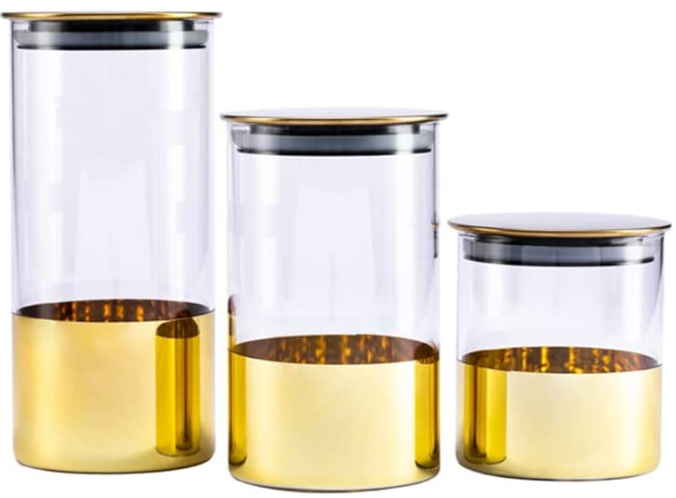 You can use it to dry fresh goods and other items. You won't let it pass if you appreciate every second while it sits on the shelf; the jars will beautify your kitchen
and increase your passion for cooking. 
12 Pack Glass Jars Set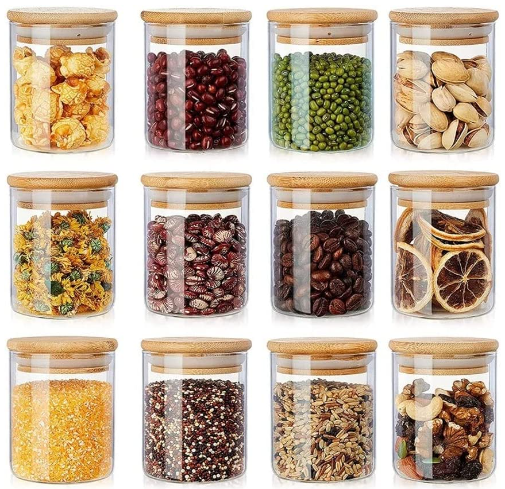 This item is a sealable multifunctional food storage jar with clear glass that is strong and safe. It can keep the food well sealed and has an excellent sealing effect. You can store cereal, tea, candy, and other culinary condiments.
Spice Jars with Label Bamboo Lid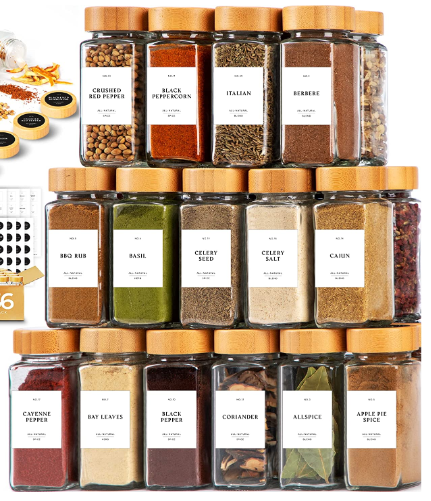 With this gorgeous set of glass spice jars with labels, you can streamline your cooking while making your pantry
worthy. The seasoning organizer set includes 240 seasoning spice labels and 36 x 4 oz thick glass jars with airtight bamboo jar lids. In addition, it has two matching waterproof and oil-proof seasoning labels. As a result, you can easily see and retrieve spices from the counter, cabinet, or drawer from any position and enjoy hassle-free cooking. 
BGraceyy Glass Jars with Bamboo Lids
This item has about eight stylish glass jars with bamboo lids, 58 pre-printed stickers in bright colors, eight blank stickers, one cleaning brush, and one white pen. The pantry jars may hold various items and have a bamboo lid with a silicone ring to lock out air and moisture to preserve the dry goods for a long time. It is made with a premium food-grade high-glass bottle and secure, ecologically friendly bamboo lids. 
Glass Jars with Bamboo Lids EcoEvo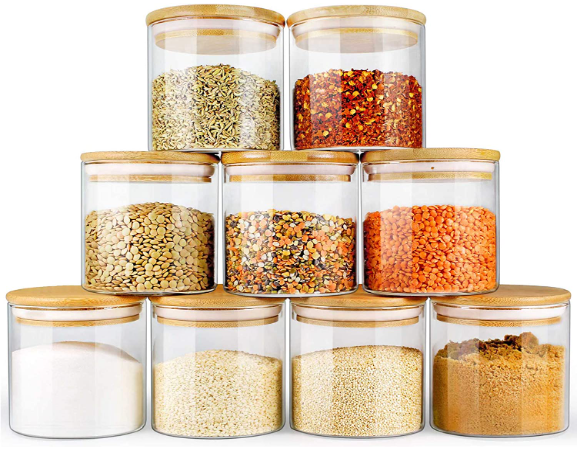 These EcoEvo glass canisters have exquisitely smooth and polished bamboo lids that are robust, long-lasting, and environmentally friendly. In addition, they are devoid of phthalates, BPA, and plastic, making them healthy.
You can keep them on the counter or shelf to store dry items, and they are also efficient and fashionable for storage and display at home. In addition, they are ideal for decorating and keeping food in your pantry and kitchen.
Evotella Grain Dispenser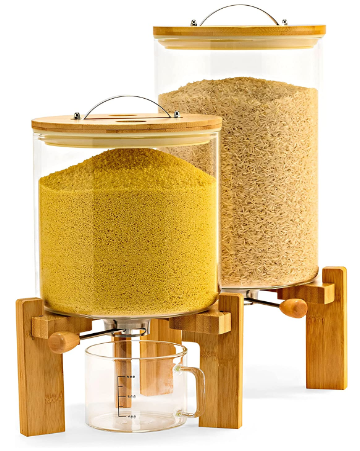 A big container that holds up to 15 lbs for kitchen organization. You can also store several types of food items devoid of moisture. To ensure fresh and dry grains, the bamboo cover has been improved with airtight food-grade silicone, and the bottom dispenser has been sealed with silicon tips.
The glass, bamboo, and lotus are artfully used in the design of the Evotella grain dispenser to complement your kitchen and home furnishings. Just adjust the bottom lever to dispense various serving sizes of rice, couscous, or quinoa into a 500 ml glass cup with measurement markings.
KKC Borosilicate Glass Canisters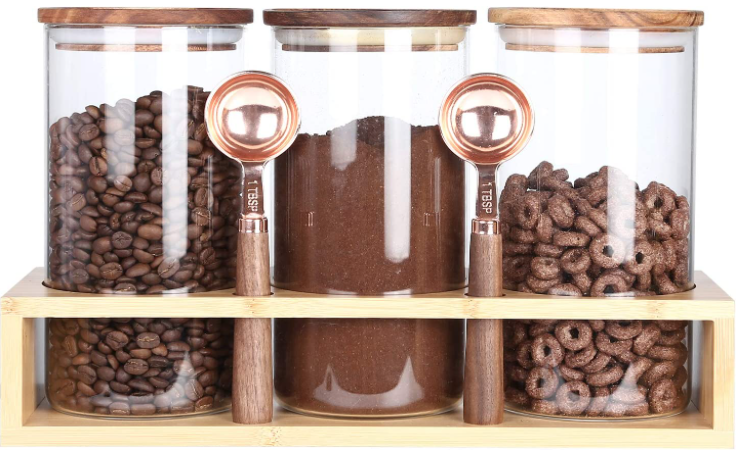 High-grade transparent borosilicate glass is used to make the storage jars, with natural wood to make the airtight lids, natural bamboo to make the rack and natural wood and metal to make the spoon. The airtight lid of this sealed kitchen container contains a silicone-sealed ring that serves as a seal to keep the contents fresh. In addition, it can keep dry food fresher and longer due to its excellent air tightness.
Set of 3 Gold Glass Jars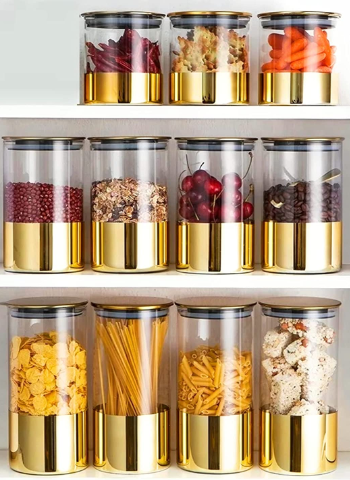 The glass gold jars are carefully made with an elegant and efficient design to assist you in storing, preserving, and organizing your pantry items in a practical yet stylish way. You can use them to decorate, embellish, beautify, and make a distinctive statement in your pantry. They also use the highest quality materials that are strong enough to withstand the wear and tear of regular usage to last longer without losing their aesthetic appeal. 
Essos Square Glass Jars with Wood Lids Set of 4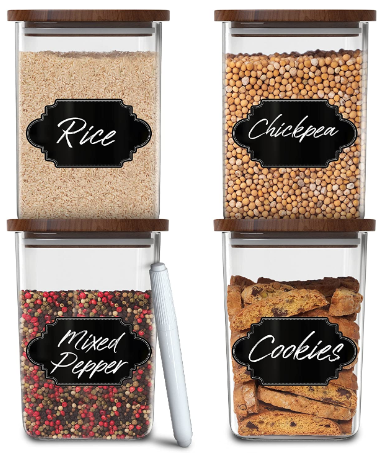 These jars are ideal for keeping dry products in storage. Food is kept fresh and delicious because of the airtight closure. It helps keep bugs or moths
, odors, and wetness out to preserve delicious food inside. They are slick and fashionable and ideal for the pantry and kitchen. It is actual acacia wood used to make the lids. They are an excellent option for individuals who care about the environment because they are made using eco-friendly materials. The jars are constructed with recyclable glass with silicone seals and are food safe and free of BPA.
Is it better to store food in plastic or glass containers? 
Between glass vs. plastic pantry storage, glass is the best choice because it is more eco-friendly, safe, and durable than plastic storage containers. The only drawback is that glass can break; other than that, it is generally the best pantry storage material. 
Conclusion
We have determined that a glass container is safer than plastic pantry storage containers. You can use glass containers in a microwave and dishwasher but not plastic containers. Also, glass storage is BPA-free and healthy for our bodies. Read my recent post on the Best Kitchen Cabinet Food Storage Ideas for storage ideas.