Being outdoors enjoying a cooked fresh meal with friends around the campfire is an unforgettable experience, but that is not a luxury any backpacker will want to try. Such luxury food packed on your back while hiking will have more negative sides than enjoying the meal. For meal prepping while on a backpacking trip or hiking require having the requisite calories and nutritional food all-in-one without the backpack weighing you down. Below is the difference between backpackers Pantry vs. mountain house freeze-dried food.
Backpacker's pantry flavor includes sweet breakfasts, diverse dishes with an average cooking time of 15 to 20 minutes. Although the pouches are flat and weigh 7 oz, the nutrition per average serving is 379 calories, 56.5g total carbs, 776mg sodium (32.3% DV), 15.9g protein, and high vitamin and mineral. 
Mountain House flavors include savory breakfasts with classic taste and an average of 8 to 9 minutes of cooking time. Although the pouches are flat bottom that can stand and weigh 5 oz, the nutrition per average serving is 271 calories, 29.2g total carbs, 773mg sodium, and 12.3g protein.
For the most part, you need less weight to reduce the amount of energy you use and make you more comfortable. Dehydrated meals or freeze-dried food are what every backpacker needs for hiking trips, and it's because they are lightweight and come in different varieties like flavor. Those types of backpacker's food are ideal because it only needs water and heat to boil the water used to cook the food. 
The good news is that hikers and backpackers now have various choices due to the influx of backpacking food brands in the market today. Most of which contain all the needed nutrients and calories. But finding and having the best food brands can be a bit of a hassle for most backpackers. 
You have to try different food brands before determining which best backpacking food brand is right for you. For new hikers and backpackers, having a suitable backpacker meal can be challenging. But not to worry, this is why we are comparing backpackers' Pantry vs. mountain house. They are the two most popular backpackers' meals anyway. 
Backpacker's Pantry Meals Review
Backpacker's Pantry was first created to supply girls scout trips with hiking and camping healthy and lightweight food. The company was sold to focus more on the consumer market with tasty and nutritious meals to the Smith family that owns Colorado spice. The backpacker's pantry meal has nutritional values important to backpackers and hikers. Some of the nutrients include high carbs, proteins, and essential vitamins. 
The backpacker's Pantry tastes delicious because of the Colorado spice that offers organic and natural herbs and spice. In addition, the backpacker's meal has a shelf life of 7 years and 25 years for emergency survival. They are also pure organic or all-natural and don't contain MSG
. The backpacker's Pantry also has different categories, just like other freeze-dried meal brands. 
Backpackers pantry food categories
Backpackers pantry is packed with much-needed nutrition for outdoor fans, has different categories or menu options to choose from, and has different tasty flavors. Backpackers pantry categories include: 
Lower Sodium Meals 

Emergency Foods

Snacks & Extras

One Person Organic Meals

Two-Person Meals

Four Person Backpacking Meals

Gluten-Free Food

Vegan Meals
 Backpacker pantry flavor and taste
Backpacker pantry is also culturally diverse with a large number of flavor and taste that includes: 
Beef Stroganoff with Wild Mushrooms

Granola with Bananas

Chicken Cashew Curry

Lasagna

Mango Sticky Rice

Fettuccini Alfredo with Chicken 

Thai dishes

Indian dishes
The combination of different backpackers' pantry categories, flavors, and tastes make their launch and breakfast very sweet. For the freeze-dried and dehydrated meal, it takes about 15 to 20 minutes to prepare. 
Another thing to know about backpackers Pantry is that the pouches are flat, weigh about 7 oz, and contain low sodium, high calorie, and high vitamin.
Mountain House Meals Reviews
The mountain house first produced freeze-dried meals for the military, which taste good, are lightweight and have a long lifespan. Before now, the company was known as Oregon Freeze Dry until it changed its name to mountain house after it started selling freeze-dried food to the public. As of this day, the mountain house is one of the top brands of backpacker food. 
Mountain House has gained a strong reputation as one of the best freeze-dried food producers used for a voyage to the moon, trips to the highest mountains, and trips to the north and south poles. They are popular with backpackers' food for taste, quality, nutritional contents, longer shelf life, and shortest prep time. 
Mountain House food categories
The company has up to 7 main categories to choose from, which include:
Breakfast

Entrees

Desserts

Sides & Meats

Emergency Preparedness

Camping

Military Rations 
Mountain House has much-needed nutrition for the outdoor enthusiast; not only do they have different categories or menu options to choose from, but they also have different tasty flavors. 
Mountain house flavor and taste
Mountain house is also culturally diverse with a large number of flavor and taste that includes:
Mountain House Beef Stroganoff with Noodles

Breakfast Skillet

Spaghetti with Meat Sauce

Lasagna with Meat Sauce

Chili Mac with Beef
You can also find their most popular best-selling meal for camping: Breakfast Skillet, Lasagna with Meat Sauce, and Biscuits and Gravy. The average cook time is 8 to 10 minutes, a pouch weighs less than 5 oz, and you can also eat from the pouch because of the flat bottom design. 
Mountain House meals have fewer calories, higher sodium, and a more classic taste with savory ingredients.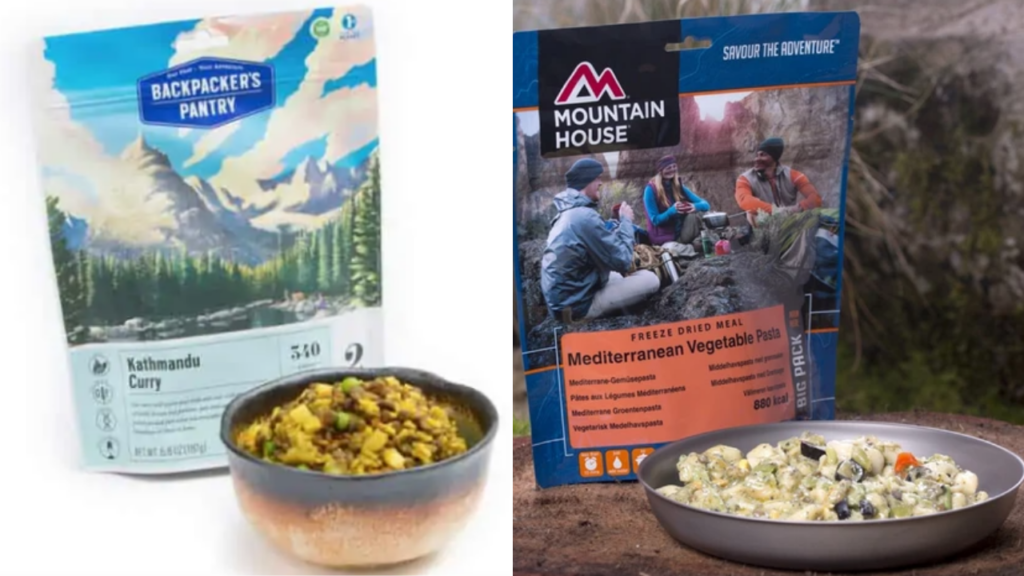 Backpackers Pantry vs. Mountain House 
Backpacker's Pantry
Flavor
Sweet breakfasts
Diverse dishes
Avg. Cooking Time: 
15 to 20 minutes
Weight & Packability:
The average weight of 7 oz
Pouches are flat
Nutrition per Avg. Serving:
379 calories
56.5g total carbs
776mg sodium (32.3% DV)
15.9g protein
High vitamin and mineral
Pros
Vitamin and mineral content are high

From organic and all-natural ingredients

Different options for people with dietary restrictions

Lightweight and falt packaging

High-calorie and Low-sodium meals
Cons 
Not so a good flavor

More cooking time

Pouches can be heavy
Mountain House

freeze-dried food
Flavor
Savory breakfasts
Classics taste
Avg. Cooking Time: 
8 to 9 minutes
Weight & Packability:
Weight of about 5 oz
Pouches are flat-bottom and stand
Nutrition per Avg. Serving:
271 calories
29.2g total carbs
773mg sodium
12.3g protein
Pros
The ingredients are consistent

It has a great flavor

Less cooking time

Pleasant texture and appearance

Classic taste dinner options

Flat bottom and lighter pouches that stand

Eat from the pouch
Cons
The aftertaste is poor

lesser calories per pouch
Are Backpackers Pantry good?
Yes, backpacker pantries are good food; they are made from all-natural and organic ingredients, they are easy to cook, tasty, lightweight, and clean. They are affordable and do not take too long to cook.
Is Mountain House food any good?
Yes, it is good food because they take a shorter time to cook, they are delicious, have different menu options including flavors, and are made from organic ingredients.