Greetings from the realm of pantry upgrades! Do you have issues stocking up your pantry? If you have stocked up the pantry, do you have issues with space? If you're anything like us, your pantry may occasionally resemble a disorganized pit overflowing with stale soup cans and chip bags. Help is here; rest assured that updating your pantry is easier than you would imagine. You can transform your stocked pantry into a place of order and inspiration with a few of our organizing tips, some healthy staples, and a few interesting spices. So let's get started on how to stock up your pantry and maximize space!
Once you have a better pantry, you can make meal preparation simpler and more fun as more people spend time cooking at home. A well-stocked pantry with wholesome staples and adaptable ingredients can help you save time and money while serving as the basis for scrumptious and healthful meals.
In this post, we'll offer advice for improving your pantry, including how to stock up your pantry, evaluate your current stock, select healthier options, and make the most of your available space. Moreover, we'll suggest a few items from Amazon to get you going.
Assessing your current pantry
We will start by assessing the current pantry, and you should take stock of your pantry's current condition before making any upgrades. After going through it, list any expired foods or ingredients you find in your cupboard. This will make deciding what should be replaced or thrown away easier.
Once you are done evaluating your current pantry, you should organize it. We suggest using clear jars or containers to store things like grains, beans, and nuts. This appears tidy and organized and makes it easier for you to see what you have quickly. If you use labels, your containers will benefit from being labeled.
Choosing healthy options
Choosing nutritious options while updating your pantry to get the nutrients you require is crucial. Here are some suggestions for choosing wholesome kitchen
basics:
Read labels
Choose whole foods with few additional ingredients like preservatives, artificial sweeteners, and added sugars that should not be used in products.
Choose healthy grains
Compared to processed grains, whole wheat pasta, quinoa, and brown rice offer more fiber and nutrients.
Stock up on healthy oils
I love olive oil because of the benefits that come with it. Choose heart-healthy oils like coconut, avocado, and olive oil, and they can be used in the kitchen or as the foundation for salad dressings.
Avoid processed foods
Foods that have been processed frequently have extra sugar, salt, and bad fats; instead, go for entire foods.
Here are some recommended products from Amazon to upgrade your pantry with healthy essentials:
Stocking up on essential items
It's crucial to stock your pantry well with basic ingredients that may be used in several cuisines while upgrading it. These pantry essentials are listed below:
Canned beans
Chickpeas, kidney beans, and black beans are adaptable ingredients in soups, stews, and salads.
Nuts and seeds
Almonds, walnuts, and chia seeds are excellent snacks and can be added to smoothies and baked products.
Dried herbs and spices
Without adding salt or sugar, these can enhance the flavor of food; paprika, cumin, and garlic powder are some basic ingredients.
Nut butter
As excellent protein sources, peanut, almond, and sunflower seed butter can be used in bread, sauces, and baked products.
Here are some recommended products from Amazon to upgrade your pantry with essential items: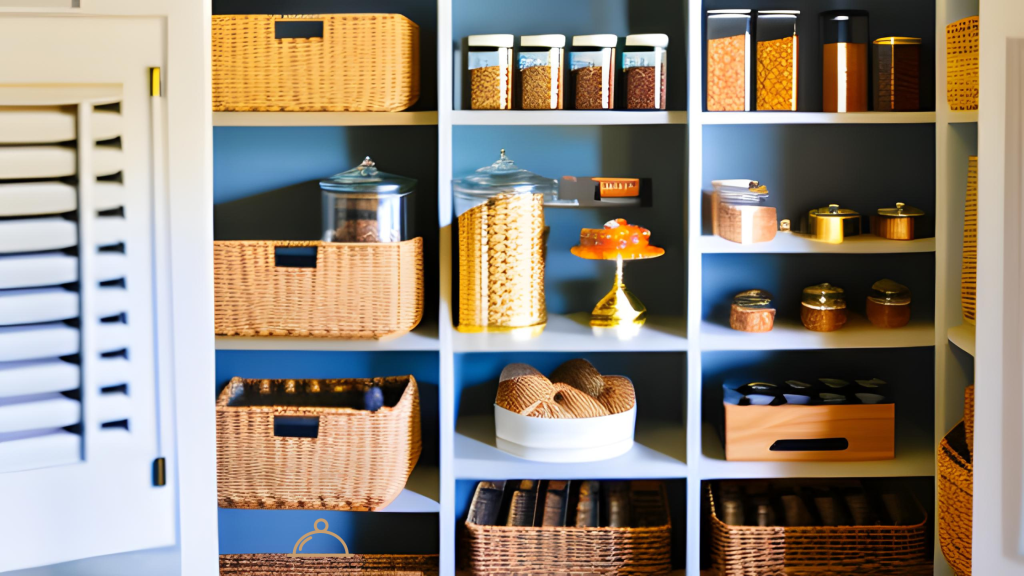 Maximizing space and storage
When upgrading your pantry, making the most of your space is important. Here are some tips for maximizing space and storage:
Use door organizers
The pantry's back door can hang organizers to store snacks and spices.
Use risers
To maximize vertical space and add additional shelf space, use risers.
Invest in a lazy Susan
You can access goods more conveniently and use corner space with a lazy susan.
Store items in baskets
Using baskets to put goods together and make them easier to find.
Here are some recommended products from Amazon to help you maximize space and storage in your pantry:
Incorporating international flavors
Finally, don't be scared to try new flavors and ingredients from other parts of the world when updating your pantry. Here are some ideas for incorporating cuisines from other countries into your pantry:
Indian flavors
Try using lentils and chickpeas in your cuisine and stock up on spices like coriander, cumin, and turmeric.
Italian flavors
Try other herbs like basil and oregano, and always have canned tomatoes, pasta, and olive oil available.
Mexican Flavors
Have canned black beans and corn on hand, and season anything with cumin and chili powder for flavor.
Asian flavors
Try cooking with tofu and rice noodles, and stock up on soy sauce, vinegar, and sesame oil.
Here are some recommended products from Amazon to help you incorporate international flavors into your pantry:
How can I organize my pantry?
It can seem difficult to organize your pantry, but there are a few easy steps you can do.
First, empty your pantry of everything and divide the things into categories.
Then, store goods like grains, nuts, and beans in clear containers with labeling. This will make it easier to examine what you have and keep things fresh quickly.
Store related items, such as snacks or baking ingredients, in baskets or containers.
Finally, utilize a hanging organizer or spice rack to maximize the space on the back of your pantry door.
How often should I clean my pantry?
Cleaning your pantry at least once every six months is a smart idea. Remove everything from your pantry, then use a damp towel to clean the shelves. Examine expiration dates, and dispose of any expired products. Take advantage of the chance to organize your pantry as well.
What are some healthy pantry staples?
Whole grains like quinoa and brown rice, canned beans, nuts, seeds, and heart-healthy oils like avocado and olive oil are some nutritious pantry essentials. These ingredients offer crucial nutrients and can be used in several cuisines.
How can I upgrade my pantry on a budget?
You can upgrade your pantry without breaking the bank with a little preparation. Making a list of what you need and taking stock of what you already have are good places to start. Look for discounts and specials on wholesome pantry essentials like whole grains and canned beans. Bulk purchases can also be an affordable method to stock up on necessities.
What are some international spices to stock in my pantry?
Many different spices worldwide can give your meals taste and variety. Za'atar from the Middle East, garam masala from India, and sumac from North Africa are a few alternatives. To discover your favorite spices, try trying new ones.
How can I make the most of a small pantry?
The organization is the key to making the most of the space in a small pantry. Use the space on the back of your pantry door with a hanging organizer or spice rack, and store products in transparent containers with labeling. Think about putting shelves or a rolling cart there to make the most of vertical space.
What are some healthy snack options for my pantry?
You can stock your pantry with nuts, seeds, dried fruit, popcorn, and whole-grain crackers as healthy snack options. These choices can keep you satisfied between meals and are nutrient-dense.
How can I use my pantry staples for meal prep?
Many meal prep ideas can use pantry essentials, including grains, canned beans, and nuts. Make a grain bowl with quinoa, roasted veggies, and canned chickpeas. Use brown rice, frozen vegetables, and almonds to make a stir-fry.
What are some ways to reduce food waste in my pantry?
Smart buying is the first step in lowering food waste in your pantry. Avoid buying in bulk if you won't be able to use everything before it expires, and only purchase what you know you'll use. Regularly check the contents of your cupboard and consume the food before it spoils. Give non-perishable goods to a food bank if you don't plan to use them.
How can I use my pantry to meal plan?
A wonderful method to save time and money is to plan meals using the items in your cupboard. Making a list of what you need and taking stock of what you already have are good places to start. Create a grocery list for additional ingredients and base your meal plans on what you already have. You can base meals and snacks throughout the week on the essentials in your cupboard.
Conclusion
When it comes to how to stock up your pantry, finding what works for you and your way of life is the key to upgrading your pantry. The secret is to turn your pantry into a haven of convenience and fun, whether stocking up on nutritious snacks or experimenting with new spices. Spend some time cleaning and organizing your pantry, and don't be averse to experimenting. With these hints and techniques, your pantry will be a creative hub for all your culinary endeavors. Upgrade that pantry, then, please!