The Amazon prime pantry and Amazon subscribe and save are both offers from Amazon; although they seem similar, both are meant to save you some money. One of these offers helps you save money, while the other benefit is you receive your groceries faster. Regardless, there are other differences between prime Pantry vs. subscribe and save, which we will discuss below. 
Amazon Prime Pantry vs. subscribe and save 
The Amazon prime pantry
and subscribe and save services help you acquire household items without a trip to the shop. It also saves you the time of going shopping, but you have to wait longer. Even though both services help you save, you also get rewarded by not visiting the shop. You only have to order from your device, just like how you order items from any online store. 
What is Amazon subscribe and save?
With Amazon, subscribe and save works as a subscription service, whereby you subscribe to a product to be delivered to you periodically. For example, let's say you subscribe to dog food to be delivered to you every month, three months, or six-month period. You will get those items delivered to you on those set dates, and you will receive a discount on the total cost of those products/products. 
With this service, the more you subscribe to, the more you save. Now for Subscriptions of up to five more products, you get about a 15% discount on the total cost. If you choose to subscribe to just a few products, the deal becomes smaller. For prime members, there is an additional discount on products. 
Amazon subscribes and saves more product categories you can choose from than Amazon pantry. The subscribe and save service is not just for groceries or essential items, but many other products like painkillers and makeup items. The only thing to watch out for in this service is that the price of the product can increase. 
Say you order toothpaste today at a low price, down the line in six months; the price may increase more than your local store, making you spend more. To keep you updated, Amazon emails you any changes or updated prices before items are shipped. 
Another downside is you run out of your subscription product before the next delivery; you have to pop into your local store to replace it. But to make it up, you have a choice to request Amazon skip the next delivery. If you order items outside of the subscribe and save categories, you will not get any discount, and it can cost you shipping fees via any option available.
What is Prime pantry?
With Amazon prime pantry, you can only order items stored in the Pantry, like nonperishable items. However, with the Pantry, you can order household items that get delivered the same day. 
This separates the Amazon prime pantry vs. subscribe and save; one is delivered on specific dates while one is delivered immediately. For the Pantry services, Amazon promises delivery between 4 to 6 days or ground shipping. If an order is already placed and you want an addition, you will have to start a new order.
There is also a minimum order; you have to order items worth not less than $35 to get free shipping for pantry services and $6 shipping for anything less. The pantry subscription service is $5 a month for free shipping on pantry orders; if you spend not less than $10, anything less incurs a $6 shipping fee.
With Amazon pantry, you need a prime Subscription; non-prime members can spend higher. Unfortunately, the Amazon pantry is not yet available in all cities.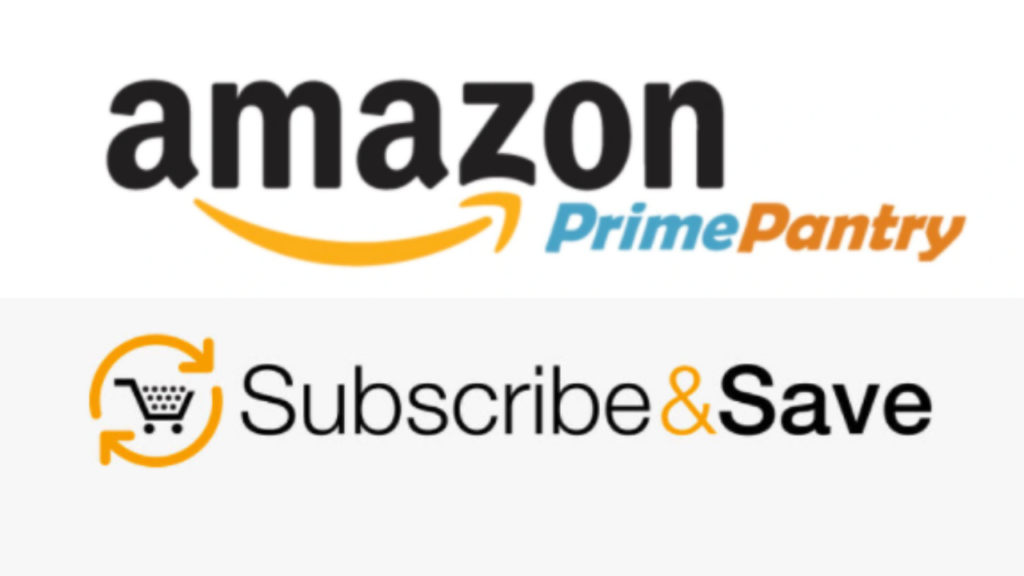 Amazon Prime Pantry vs. subscribe and save, which is better for you?
Firstly, the right service that is best for you is the one available to you. 

If you don't have Amazon Prime or want deliveries to P.O. Box, then Pantry is not for you. Instead, you can use subscribe and save. 

With subscribe and save, you can get discount prices and wait longer. 

Pantry is for you if you require fast delivery, don't bother about prices, and want to save time going to the store. 

For short-term convenience, Amazon pantry is best; for discounts, subscribe and save is best.

Items available on each service also determine which is best for you or which to use.

Using one service does not stop you from using the other.

You can use both Amazon prime Pantries and subscribe and save services.
It is best to use the subscribe and save service for items you use less frequently and items you regularly need on Pantry. 
What do you buy from Amazon Pantry?
You can buy household items like paper towels, trash bags, standard package sizes of your favorite groceries, a single box item, or bulk items. 
Can I cancel Amazon pantry orders?
Yes, you can cancel Amazon pantry orders. First, go to your account, then to the order section. On Your order, click cancel items. Then, check all the boxes of things you wish to cancel or remove from your order for multiple order cancellations. 
Amazon subscribes and save cancel immediately. 
You can cancel your Amazon subscription and save with no penalty right up until the items are locked for shipment. Go to your account (Your Subscribe and Save Items), click on Subscription, click on the item image (for browser) or Edith (on mobile), Click on Cancel subscription, and write the reason then click on Cancel my Subscription. 
Is subscribe and save worth it?
The subscribe and save service may be worth it for some who want convenience or want to grab a short-term bargain for an item. In the long run, the price can go up before your next delivery, making you spend money. It may be worth it to take a trip to your local shop and save subscription fees, price increases, and same-day delivery/receipt of the item. 
What happened to amazon prime pantry?
Since Amazon Pantry (formerly Prime Pantry) was discontinued, such home goods and shelf-stable pantry items can now be bought on the main Amazon website, along with other Amazon products.
Pantry, which debuted in 2014, was unlike most Amazon orders. Pantry orders paid a fixed $5.99 shipping price for each box of supplies, which could include up to 45 pounds of goods or four cubic feet of items, whichever limit customers reached first. The program's goal was to make daily commodities like bottled water, paper goods, wheat, canned goods, and cereal boxes easier to stock up on.
In 2018, Amazon changed how Prime Pantry functions, charging a $5 monthly charge over standard Prime expenses. This package includes unlimited pantry orders each month, providing consumers spend at least $40. Orders under $40 or non-Prime subscribers would be charged a flat $7.99 fee.
Despite discontinuing Prime Pantry, Amazon's aspirations for grocery delivery remain unabated. Amazon now owns Whole Foods and is rolling out its own Amazon Fresh-branded locations. Also, Amazon Prime members may still use the Fresh and Whole Foods delivery services, which deliver groceries in over 2,000 US communities.
Given that Amazon now owns and manages these same locations with Amazon Prime delivery, reintegrating Pantry into the more extensive Amazon site makes a lot of sense.