If you are wondering about the difference between pantry car vs. onboard catering, you are not alone. Most people get confused when the term "pantry car" is used. Also, it is easy to confuse the two because of the similarities between pantry cars and onboard catering. Therefore, we will be looking at pantry car vs. onboard catering, the differences, and the similarities. 
What is a Pantry car?
A pantry car is a coach on a train that contains different food items and restaurants where food is stored, cooked, and served to passengers. In other words, a pantry car is a food storage coach from where catering services are offered to passengers. Another name used to refer to pantry car is "storehouse" or "restaurant car," where food is served to passengers at the table.
What is onboard catering? 
Onboard catering is a type of catering service provided on a transport system; this service is offered on a train, airplanes, and ferries.
What is onboard catering on the train? 
It is a catering service offered to passengers on a train, and private vendors run it. Onboard catering on trains is aimed at providing travelers with that mouth-watering refreshments throughout their journey. 
What is an Onboard catering restaurant?
A catering restaurant that prepares serves, and organizes food service for different events like wedding ceremonies. Onboard catering restaurants also offer custom services whereby customers choose their preferred meals. Their service includes wedding catering, breakfast catering, personal catering, family catering, and party catering.
Difference between Pantry car vs. Onboard catering
A pantry car, storehouse, or restaurant car is where food is stored on a train, cooked, and served to passengers on tables, and managed by the train operators, comes with a fixed price. 
Pantry cars are found on long-distance trains with limited stops, while onboard catering is typical on most trains, airplanes, and ferries. 
Onboard catering trolleys and kiosks are stationary, and passengers will buy from there or move around while passengers place their orders. 
Pantry car also comes in the form of mini restaurants on a train with tables and staff.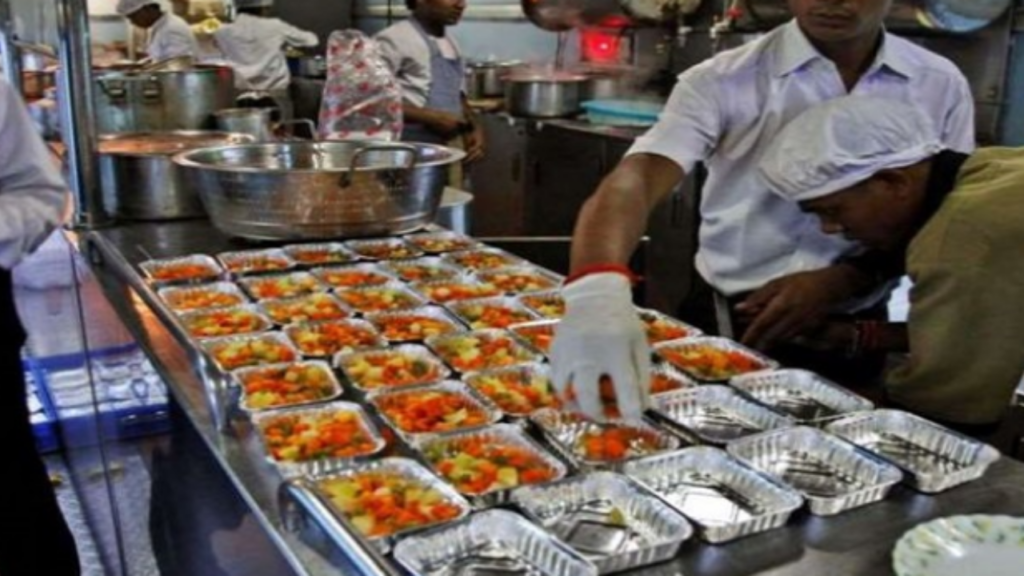 Food quality in Pantry car and Onboard catering
The food quality is excellent, don't forget these are packet food stored in a food warmer to maintain the required cooked food temperature. The food is delicious, just like the ones served on an airplane. A professional chef prepares the food, so you'd expect carefully and adequately cooked food. 
Provides refreshment
Cheaper than most restaurants
You can take food packets home
Reduce hunger on a long-distance travel
It also makes time go fast psychologically
Keeps you entertained 
Suitable for passengers who need to take a meal before medication
Source of revenue for the transport provider
What is the meaning of eCatering?
eCatering is a pre-ordered meal. It is the process of ordering a meal before it is delivered. For example, you can pre-order a meal or beverages and pay before serving to you on the train or airplane. It is usually done before your travel day or while making a booking. eCatering is served in packets and in warm conditions for a warm meal or cold conditions for beverages.