It's never a dull day in the kitchen with a shelf or pantry. With so many ingredients out there that are worth experimenting with, there are often difficult decisions to be made. You might have a favorite recipe you've been waiting to try — or an ingredient you've always wanted to buy and integrate into your cooking.
Some products stay on the shelf, and others can be kept in containers on the pantry shelves. So which should you store away where they'll be easy to grab when needed? Consider some questions you may want to ask yourself when deciding between a shelf or pantry.
What is the difference between a pantry and shelf?
Kitchen cabinets are beneficial for keeping your food items close at hand, but if you're like most people, you want to dedicate only part of your cabinet to just one or two products. That's where shelves come in — they allow you to keep your ingredients organized so that you can always find what you need when you need it. In addition, if your kitchen is cluttered, the combination of shelves and cabinets can help clear off some of that clutter for good.
To start with a kitchen pantry or shelf organization system, consider which products are worth storing away for future use. Knowing where these storage locations are will also help you determine how to divide your pantry and shelf into specific sections so that you have one aisle for different ingredients.
Pantry organization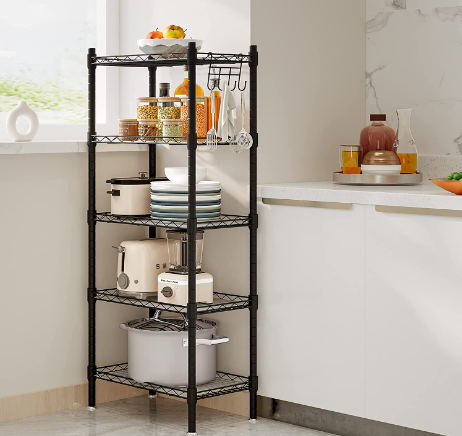 How big is your pantry? 
If it's small, don't worry about getting crazy with containers — focus on getting items from place to place via the shelves. You could also opt for a set of compartments to organize each shelf in your pantry. For example, you might want spices in one area and canned goods in another.
What type of cabinet do you have? 
Keeping items on a shelf may not be the most practical option if you have an integrated kitchen cabinet. This type of cabinet isn't designed for easy access and likely won't have a lot of vertical space. In this case, consider a pantry cabinet.
Do you have limited storage space? 
Pantries built into a wall can be useful if you have little room in the rest of your kitchen. These units are also relatively easy to install, so they're a great option to keep in mind if you've got limited counter space in your kitchen or dining room.
If your shelf system is small (say, just one or two shelves), it's best to use tall containers instead of plastic bins with lids. This option will be much easier on your back. If you've got a lot of cookbooks, consider building bookcases into your pantry. This is especially true if you only have a little room in your kitchen for other types of storage.
A shelf system is an excellent choice for those with many spices and seasonings to store away. This option will also work well if you've carefully selected all the products hanging around in the kitchen and now need to show off their findings in a new way.
As you can see, there are many things to consider while organizing your pantry and shelves. Ultimately, you'll want to decide which features are important for your kitchen and spend some time working on your system. Don't be afraid to get creative — especially if you're bursting at the seams with products that haven't yet been given a home!
You may also opt for a few different systems in the same space, such as one shelf for canned goods and another for fresh produce. Your fridge has also got some room for organizing — a good way to make extra space is with a pantry insert, which will give you the ability to store and organize your fresh foods.
Do you have pets? 
If so, look into options resistant to moisture and even pet hair! This can help keep your pantry organized — and the food it contains — intact.
Your pantry and shelf system may need an overhaul every once in a while. If you're in the market for new containers, look at some options available today. You'll find plenty of exciting things to look at — including sets of stackable containers, baskets with dividers, and other attractive storage devices that will help make your kitchen more organized.
Now it's time to get started with your pantry or shelf organization system! Remember to take your time and consider all the possible ways you can make use of your space. After all, a healthy pantry helps you make tasty dishes, no matter the season!
If you have a large kitchen, an island, or a butcher block countertop, you have plenty of extra space to store your kitchen utensils. If you don't have extra space in any of those areas, consider using organizers that can be affixed to the wall. These organizers come in many different forms and materials. 
You can find many different types in stores like Target and Walmart. Once removed from the package, you can assemble these organizers according to their size and shape. However, some of them are not intended to be removed from the wall, so ensure you understand what you're buying before you make your purchase.
Here are a few examples:
You can mount a magnetic strip on your wall to store small items like pens and pencils, clips, binder clips, and any small tools used regularly. Many businesses today use magnets in their kitchens to keep all the utensils organized and at hand reach like these wall hanging storage
. It is designed to hold your smaller tools and utensils. They come in a variety of different styles and are very affordable.
You can also purchase a rack for kitchen
items like spatulas and spoons. It is made from stainless steel, and this rack has plenty of hanging space for all your different utensils. It's extremely simple to install, and you can even screw anchors into the wall if you don't want to purchase an organizer. These organizers also come in many different sizes, shapes, and colors. You can either buy them with the magnets on them or without them.