It can be challenging to keep your kids fed and happy throughout the day when you have a full-time job as a mom, a busy schedule, and many commitments. Most moms rely on cupboard snacks to provide their kids with fast and simple food. Finding snacks that are kid-friendly and healthy, however, can be challenging. Below are some of the kid-friendly pantry
snacks for busy moms should have.
Busy moms can stock the pantry with kid-friendly snacks like apple slices with almond butter, carrot sticks with hummus, Greek yogurt topped with honey and berries, banana-peanut butter roll-ups, trail mix, cheese with whole-grain crackers, veggie chips and salsa, hard-boiled eggs, lightly salted air-popped popcorn, homemade granola bars, avocado-tomato toast, and cottage cheese with fruits.
So, we have put together a list of tempting and healthy cupboard snacks that your kids will like. These quick and simple snacks are ideal for working parents who are short on time because they only need a few ingredients. These snacks will fulfill your kids' desires while giving their developing bodies the nutrition they need, whether they need a rapid energy boost or a lunchtime pick-me-up.
What Makes a Snack Kid-Friendly?
There are a few essential things to consider while choosing snacks for children. First, the snack should be simple to handle and consume with little hands. A flavor and texture that appeal to youthful taste receptors should also be present. Also, healthy snacks for children should contain the vital vitamins and minerals needed for normal growth and development.
The Importance of Nutritious Snacks for Kids
A child's diet should include snacks because it gives them the energy and nutrients needed to maintain their busy lifestyles. But not all snacks are made equally. While processed meals and sugary snacks can give you a temporary energy boost, they can also cause blood sugar spikes and crashes. Contrarily, healthy snacks high in fiber, protein, and good fats can provide youngsters with long-lasting energy and support their ability to remain awake and focused throughout the day.
25 Kid-Friendly Pantry Snacks for Busy Moms
Apple slices with almond butter
Carrot sticks with hummus
Greek yogurt with honey and berries
Banana and peanut butter roll-ups
Trail mix with nuts, seeds, and dried fruit
Cheese and whole-grain crackers
Veggie chips with salsa
Hard-boiled eggs
Popcorn (air-popped and lightly salted)
Homemade granola bars
Whole-grain toast with avocado and tomato
Cottage cheese with pineapple or peaches
Frozen yogurt bites
Mini rice cakes with almond butter and raisins
Fruit salad with a dollop of Greek yogurt
Oatmeal bars with nuts and dried fruit
Baked sweet potato chips
Ants on a log (celery with peanut butter and raisins)
Apple slices with cheddar cheese
Turkey and cheese roll-ups
Smoothie bowls with fruit, yogurt, and granola
Roasted chickpeas
Apple cinnamon energy bites
No-bake oatmeal cookies
Homemade fruit leather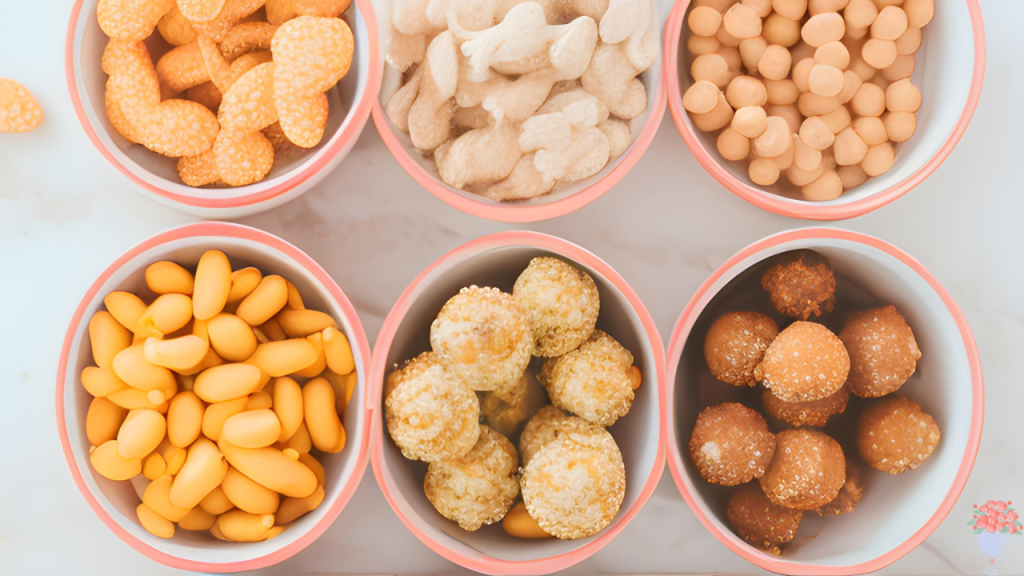 How to store kid-friendly pantry snacks
Now that you have a list of 25 healthy pantry snacks for kids to occupy and keep them nourished, it is critical to know how to store them to preserve their quality and freshness. When reserving your pantry snacks, consider the following advice:
Store snacks in airtight containers
Store your snacks in airtight containers or resealable bags to keep out air and moisture that might cause them to deteriorate. Their flavor and texture will also be preserved as a result.
Label and date
You should write the name of the food and the date you kept it should be written on the containers or bags. This allows you to track when it expires and how long it has been stored using this.
Store in a cool, dry place
You should store food in a cool, dry location from the sun and heat. By doing this, you may keep them from decomposing and maintain their quality.
Rotate your stock
Make sure to rotate your stock when you add fresh snacks to the cupboard so that the oldest ones are consumed first. Your snacks will always be tasty and fresh, thanks to this.
Freeze if necessary
You can freeze items like energy bites or homemade granola bars for longer storage. Cover them with plastic wrap or aluminum foil and store them in a freezer bag or other airtight container.
These simple storage recommendations will help your kid-friendly pantry snacks stay flavorful and fresh for as long as possible. Reducing food waste will save money and give your kids access to tasty, wholesome snacks.
FAQ
Are pantry snacks healthy for kids?
Pantry snacks can be good for kids if you pick healthy alternatives high in fiber, protein, and healthy fats. Fresh fruit, whole grains, and protein-rich foods like nuts and seeds can all fall under this category. Snacks with a lot of sugar or processed foods should be avoided.
Can I make my pantry snacks?
Indeed, using ingredients like oats, almonds, seeds, and dried fruit, you can create your own pantry snacks. Using this method to provide your kids with healthy and delicious snacks may be creative and exciting.
How long can pantry snacks be stored?
The type of food and the storage technique affect how long it can be kept in the pantry. Dry, non-perishable snacks like crackers or trail mix can be kept for a few months. During a week or so, fresh snacks like fruit or vegetables should be consumed.
Can pantry snacks help my child's concentration and focus?
Indeed, healthy pantry snacks can give children long-lasting energy and support their ability to remain awake and attentive all day. In addition, protein- and healthy fat-rich snacks, such as nut butter or hummus, can help regulate blood sugar levels and offer a consistent energy source.
Can pantry snacks be gluten-free?
Indeed, many pantry snacks are gluten-free, including fresh fruit, nuts, seeds, and rice cakes or crackers.
Can pantry snacks be vegan?
Indeed, many vegan pantry snack choices are available, including granola bars, fresh fruit, almonds, and seeds.
How can I make pantry snacks more appealing to my child?
You can make pantry snacks more enticing by providing your child with various alternatives and presenting them creatively and enjoyably. For instance, you could make a vibrant fruit salad or cut sandwiches into fun shapes with cookie cutters.
Can pantry snacks replace meals?
While they might be a quick source of nutrition and energy, pantry snacks should not replace meals. Instead, children should consume frequent, balanced meals with various nutrients for their growth and development.
Can pantry snacks be included in a school lunchbox?
Yes, many pantry snacks, including trail mix, fresh fruit, and whole-grain crackers, are wonderful to pack in a child's lunchbox. However, be sure to abide by any dietary restrictions or allergies outlined in the school's policies.
Are there any snacks that I should avoid giving my child?
Snacks with a lot of sugar or processed substances should be avoided since they might cause blood sugar levels to increase and have little nutritious value. While choosing snacks for your child, remember any dietary allergies or sensitivities they could have.
Conclusion
Easy and Delicious Snacks for Happy and Healthy Kids
As a busy mom, we know balancing your other obligations with ensuring your children are nourished and happy can be difficult. That is why having a cupboard is crucial for a cupboard full of kid-friendly food. You can provide your kids the nutrition and energy they need to grow by selecting wholesome alternatives like fresh fruit, whole grains, and protein-rich meals. So why not offer them some healthy snacks instead?